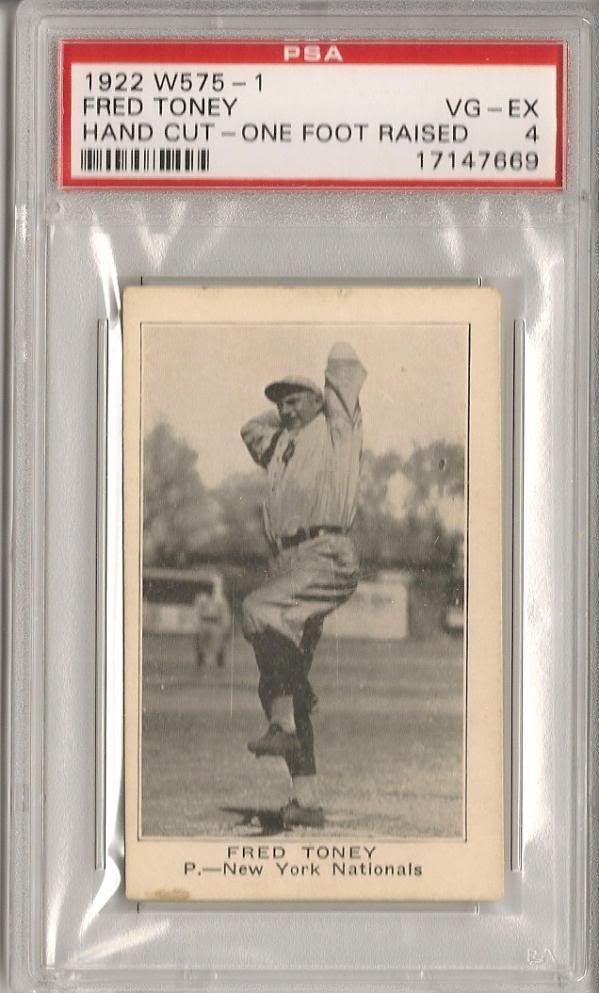 Every so often, a card arrives at my doorstep which reminds me of what I love most about card collecting, tying memories to a historical artifact.
In addition to writing the biography of Orval Overall, I was able to research and write about Fred Toney for
Deadball Stars of the National League
. Fred Toney was in many ways a far more interesting character, violating the Mann Act, pitching in the only double no-hitter in history, joining the New York Giants, but he never captured my attention the way Orval Overall did.
I did, however, want to find a card of Fred Toney to add to collection. My search was not always active, but something which existed in the back of my mind. About a week ago, I found the above card in a posting leading to eBay. I was quite excited and was preparing to make my bid on a one day auction when I noticed the auction ended.
Given the current climate, I assumed someone had swept in and made an off-site offer to obtain the card, leaving me to wait for another Fred Toney card to come across my path. However, upon returning to Net54, I found the card was not bid upon and was going to be listed for sale again.
I managed to find the card early Wednesday morning and sent a message to see if the card was available. Fortunately for me, the card was and nearly a year ago, the card arrived in my mailbox safe and sound, unlike this entry, which lingered, unwanted and unfinished in my drafts folder.
I want to thank Tony for selling me this card. It is the first Fred Toney card I own and potentially it is my last, because no other Fred Toney card will be able to take its place.