It is fitting to close the year with the best addition to my collection in 2012. In the past two years since I returned to collecting, my best pick ups each year were T206 cards with a Black Cap Christy Mathewson "winning" 2010 and a green background Ty Cobb portrait "winning" 2011. While I managed to purchase all the cards I needed to "complete" my T206 set (I still have six cards in transit) and I won a Plowboy Orval Overall on eBay, this year, my best pick up is not a card, but instead a piece of memorabilia.
As you might guess from the large number of Mike Scott references and cards you've been subjected to on this blog, one of my favorite teams of all time is the 1986 Houston Astros, who would have advanced to the World Series if they were able to win one game where Mike Scott did not start. Sadly, they didn't and the Mets won the World Series, but this team holds a certain place in my heart. One day, while browsing for cards on an online forum, I came across a listing of items from someone who worked at Wrigley Field in the 1980s. Scrolling down the post, I saw a lineup card from a 1980s game filled out by Pete Rose, while manager of the Reds, and another from Tommy LaSorda. There was also a Braves card with Dale Murphy and a whole bunch of bad involved. Towards the bottom of the list was an undated dugout lineup card from the Houston Astros.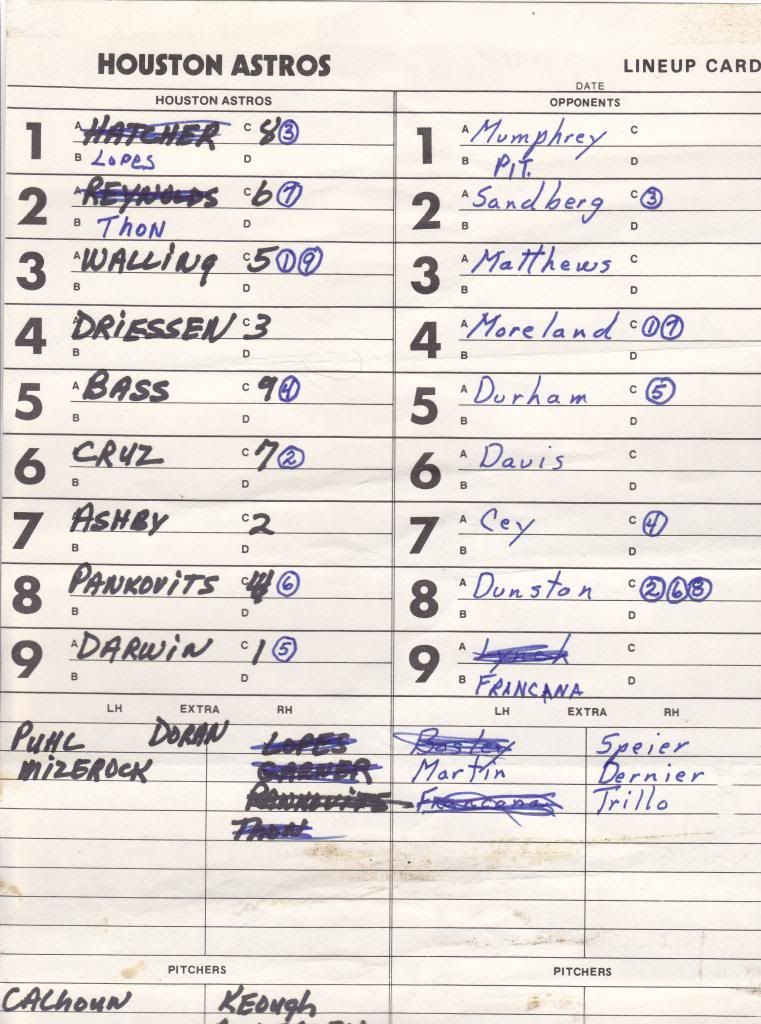 The lineup card is the size of a piece of legal-sized paper, which is why you have two so-so scans above. We won't discuss why I didn't take a picture. Let's just say the picture always come out terrible, but a different kind of terrible each time. I sent a message ASAP and reserved the lineup card and set about some research. Using Baseball-Reference.com, I was able to quickly identify the game to a single day,
September 1, 1986
. A Monday game with some starters such as Glenn Davis and Bill Doran rested and Danny Darwin starting against Ed Lynch, it matches exactly with the card above.
As an artifact of one of my favorite teams of all-time, I was overjoyed and began awaiting the arrival of this item. It didn't have Mike Scott's or Nolan Ryan's names on the card, because Hal Lanier was not interested in listing his starting pitchers on his lineup cards. But it was part of a magical season and a truly unique item.
The problem was it wasn't arriving. The SuperStorm delayed my inquiry and I was told that it was shipped. For a month, I was convinced one of my neighbors received the package in error and was in possession of this lineup card. However, the fourth or fifth time I sent an inquiry, the package was miraculously found, having fallen behind a dresser or table and was shipped to me. Given that I was concerned the lineup card was lost and now that it was found, I could've cared less about the wait, I was just so overjoyed to know I was getting the one package I couldn't replace shipped to me. Because it took nearly two months to ship the lineup card, the seller also included a lineup card from the Cubs dugout from the
May 30, 1983
game as well.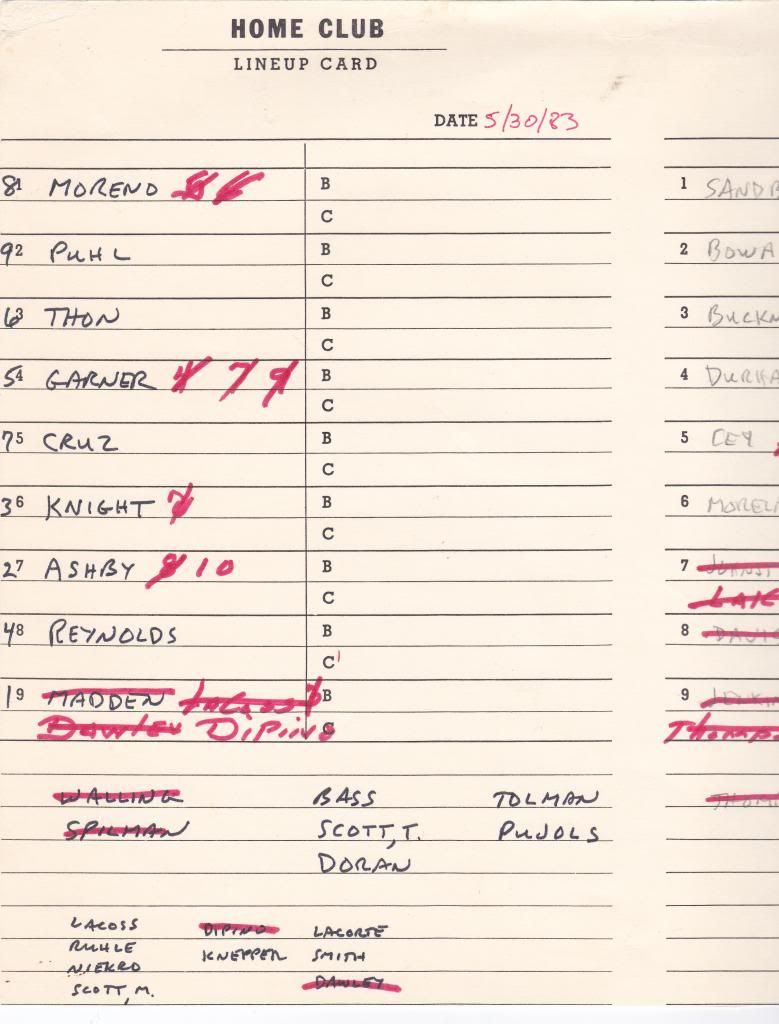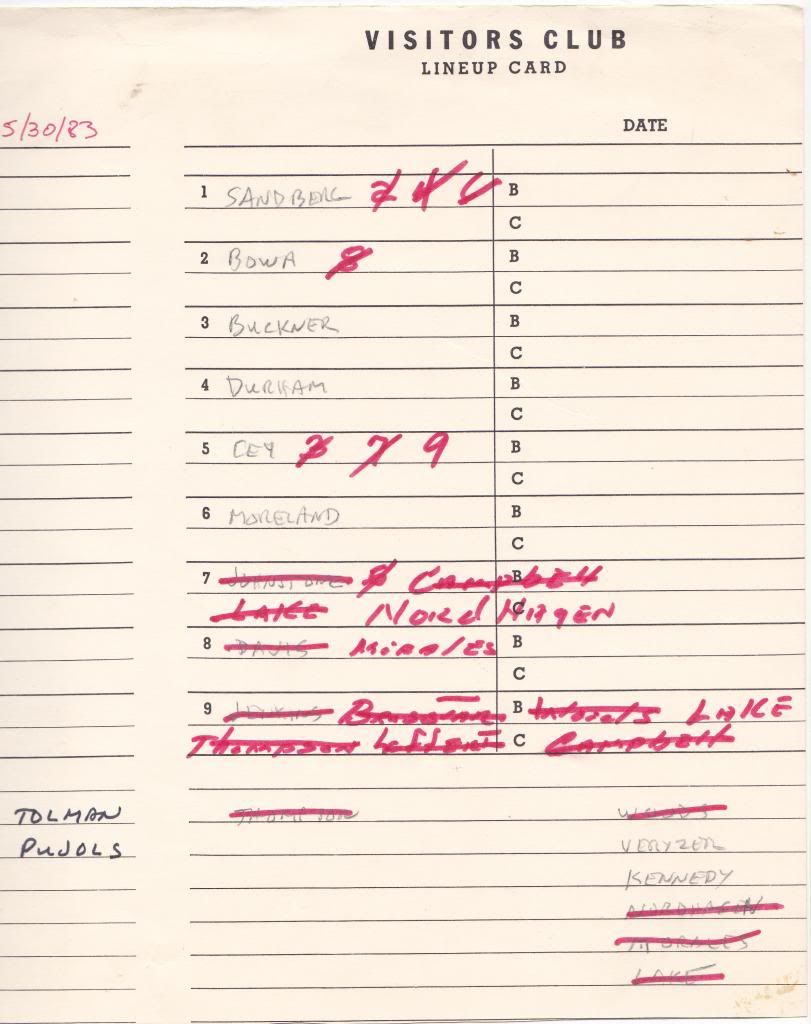 Mike Scott is featured on the card, which I enjoyed greatly, even though he did not pitch that fine day. While I have a lot of great pieces in my collection, nothing brings greater joy to me than these cards, knowing they are truly one of a kind and part of history. Interesting about this card is the game was started by Hall of Famer Ferguson Jenkins in his last go-around, leaving two Hall of Famers on the lineup card as Ryne Sandberg started that day as well. A very thoughtful gesture to make up for the wait and a piece of history I will treasure for forever.