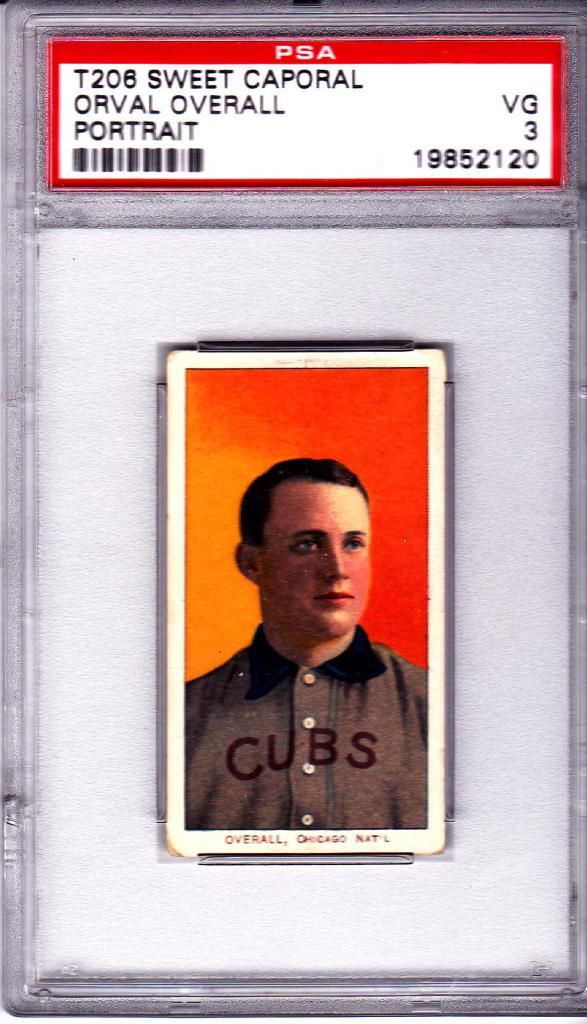 The first card I bought for my T206 Set was a T206 Orval Overall portrait, like the one found above, but not nearly as nice.
A few weeks ago, I was able to go to the East Coast National. I planned on trying to fill in some holes in my T206 set and was not very successful. I purchased four cards, one upgrade, one "oops" I already own it and two cards I actually needed for my set, pushing my set that much closer.
The upgraded card is the Orval Overall portrait seen above. I stopped by bbcards at his table in the back of the show and saw his stack upon stack of higher grade T206s. If there was one card in the case, there were 800 graded T206 cards in case. I was sorely tempted by the very rare Bill O'Hara St. Louis variation, but could not bring myself to commit moving to collecting up to 520 T206 cards for my set instead of 518. (Nor could I stomach spending such a large amount of money on a single piece of cardboard, no matter how nice a Fair it was.)
I did, however, browse for a T206 Orval Overall portrait, as it is one of my favorite cards in the set and the only Deadball era player whose cards I collect beyond the T206 set. At first, he showed me a PSA 5 EX Orval Overall portrait, which I liked, but was not blown away by the color, which to me is the selling point of a higher grade card. I walked away and continued my tour of the show, which last about two hours.
I returned and looked at the PSA 3 VG T206s and found the above card. Looking at the card, I was drawn in by the great color and strong registration. I also picked out a T206 Carl Lundgren KC in VG, but wasn't prepared to pay a strong premium for that particular card. I was however, enamored with upgrading my Orval Overall and happily paid the price I was quoted. Like all show purchases, was slightly higher than I would pay online, but you can easily talk yourself into buying something for a higher price with the card in hand. That tactile sensation makes it yours and once it is yours...you pay the man the money he wants.
With that being said, this is now one of the nicest grade tobacco cards in my collection and one of my favorite cards that I own.