Having no desire to drive an hour to a card show today, let's look back at the box of ITG Decades 1980s I bought two months ago instead. As a bonus, I will take an economic potshot at the local card store as well.
ITG Decades 1980s is a premium product which came out about two years ago, before I started collecting cards again in earnest. The cards all feature NHL players from the 1980s, with each box containing 9 cards: 3 base cards, 3 autographed cards and 3 relic cards. Given my love of late 1980s/early 1990s hockey, this product is screaming for me to purchase it. However, for two years, I dithered and mostly passed on buying a box. The reason was my local card store.
The card store near where I used to work always had a box of ITG 1980s Decades on the shelf. I looked at the box and twice asked about the price of the box. About a year ago, the box was just a shade north of $100, which was more than I wanted to pay for a box I didn't know that much about. After purchasing the above box at a local card show, I asked again about the very same box, since even though I would charitably say I did passable on the below box, I was willing to get on the horse again. Price for the box: $140. Price on the internet with shipping: $100. Price at the local show: $75. Value of the cards pulled from the box: safe to say less than $75. Most of the autograph and relic cards are of the $5 to $8 variety and there are few big hits without Gretzky in the set to balance out the cost of the box. So, the product is all risk, no reward at the highest prices.
Given the price quoted, I walked out of the store without hesitation or even a desire to look at anything else in the store and headed to K-Mart where I purchased the greatest blaster of my card collecting career.
Essentially, the local card store has an unsustainable model. As a consumer, I will pay a premium to get something in hand that day. A small premium, but a premium nonetheless. That is the cost of rent and being available for the 6 hours a day, not including Sundays, where I can buy cards in person. However, a $40 premium over the internet and a $65 premium over a show will drive me out of the store. And it isn't like this an isolated instance and other cards are fairly priced, as I was met by a box of 2010 Topps Update at the door for $70, when it is available online for $36.
There are two knock-on effects of such pricing.
1. It loses me as a customer on fairly priced items (if they exist), since I will assume everything in your store is highly overpriced, so I am just wasting my time by going to the shop, since I will not want to overpay for product.
2. The store becomes a museum. Many stores, not just the one in question above, have stock. Stock of items which never sell. I've seen some stores with every kind of pack and box for two decades, waiting for someone to desperately come in and need to pay retail plus for this material. It does not seem to be a conscious choice to retain all of this inventory, but becomes the horribly cluttered store that makes it nearly impossible to shop.
Anyway, onto the cards.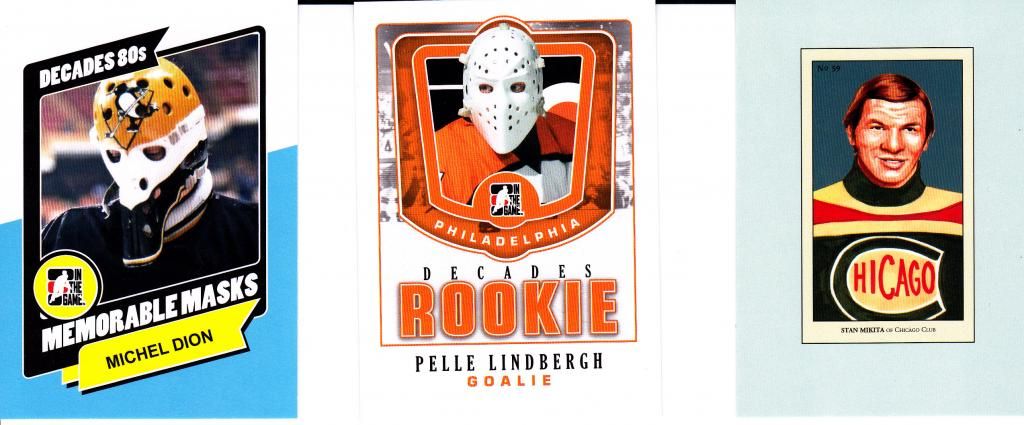 The base cards are interesting and as a stand-alone product would make a good set. I'm especially a big fan of the Mask cards, as goalie masks have evolved quite a bit in the last 30 years and these cards really show the evolution and the artistry of the day. Plus, I pulled
Michel Dion
in a mask designed to look kind of like a penguin which is a big plus.
On to the autograph cards: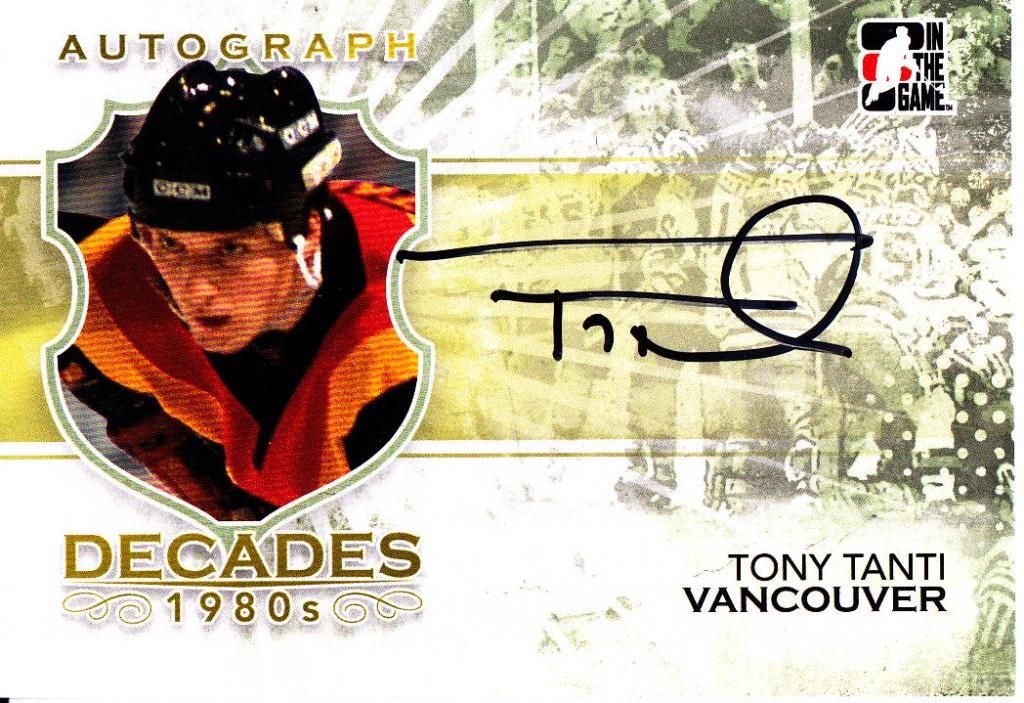 Tony Tanti
was at least a Penguin, which required some research on my part to divine.
Craig Hartsburg
isn't even that lucky.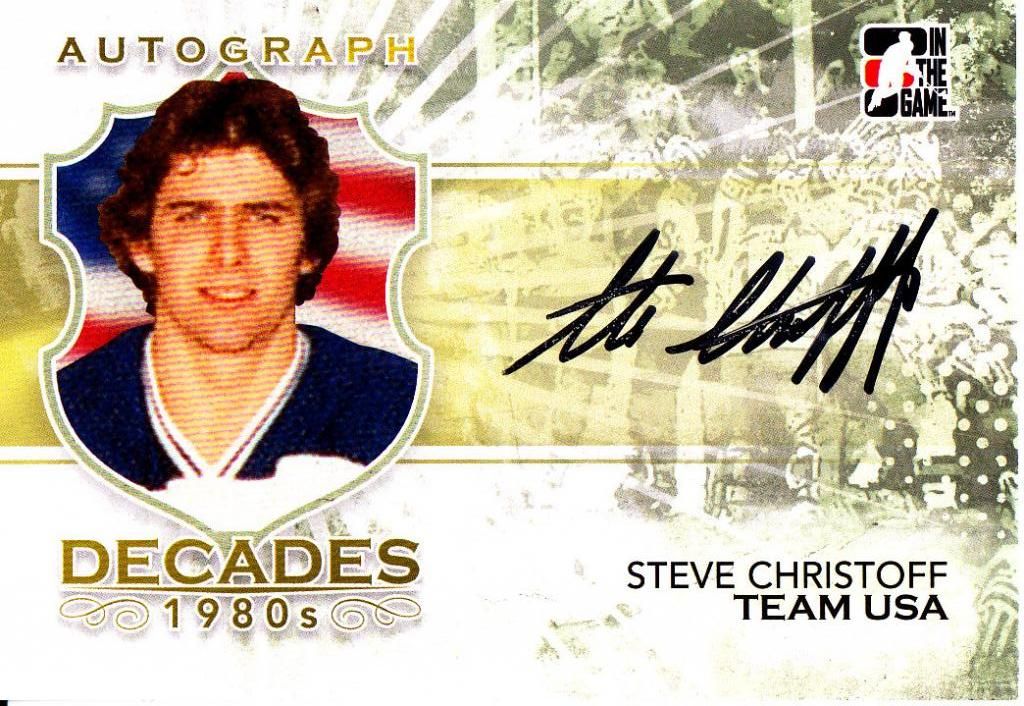 Steve Christoff
was by far the best of the three autographs, as it is one of the Team USA cards. However, being 1 year old, when the Miracle on Ice occurred, I have no special feeling towards these cards. The overall appeal of the autographs is limited, as the beigish background colors do nothing to make the autographs pop. I think a brighter color or something hockey rink related would have been a better look for these cards.
The relics were better, though the standard of selection was low. Like clearing a hurdle buried in the deep within the earth by walking on the surface.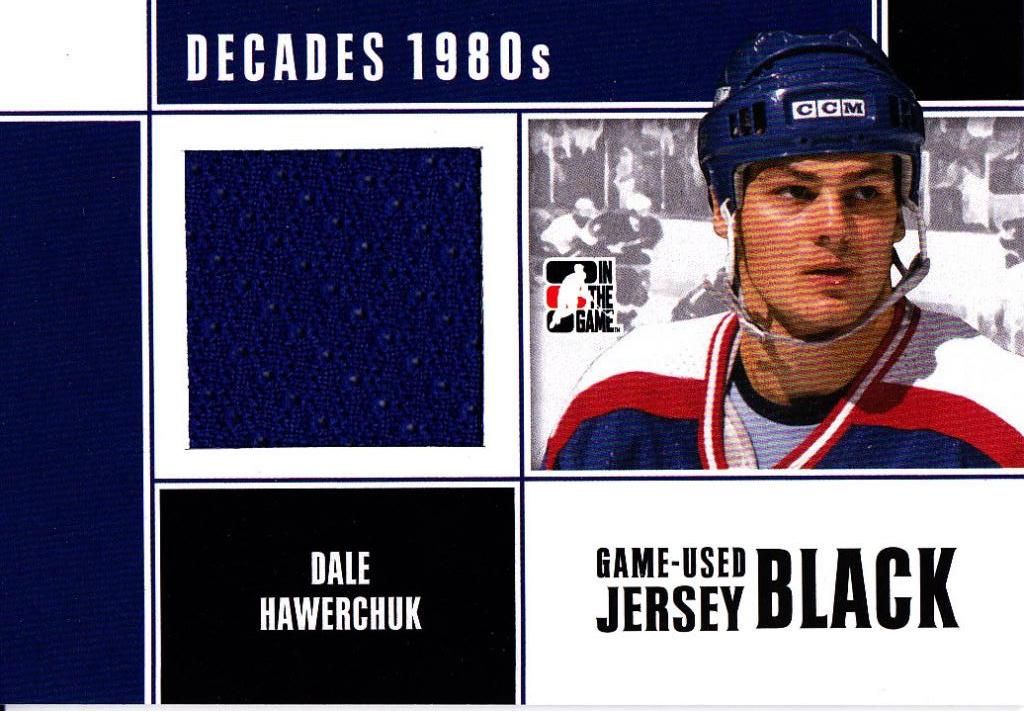 Dale Hawerchuk
was a name I remembered and discovered, he too, was a Hockey Hall of Famer, which I'm fairly certain is an honor bestowed on anyone who plays 10 years. I never thought Hawerchuk was a truly great player, but he did post some impressive totals in the 1980s for the Winnipeg Jets.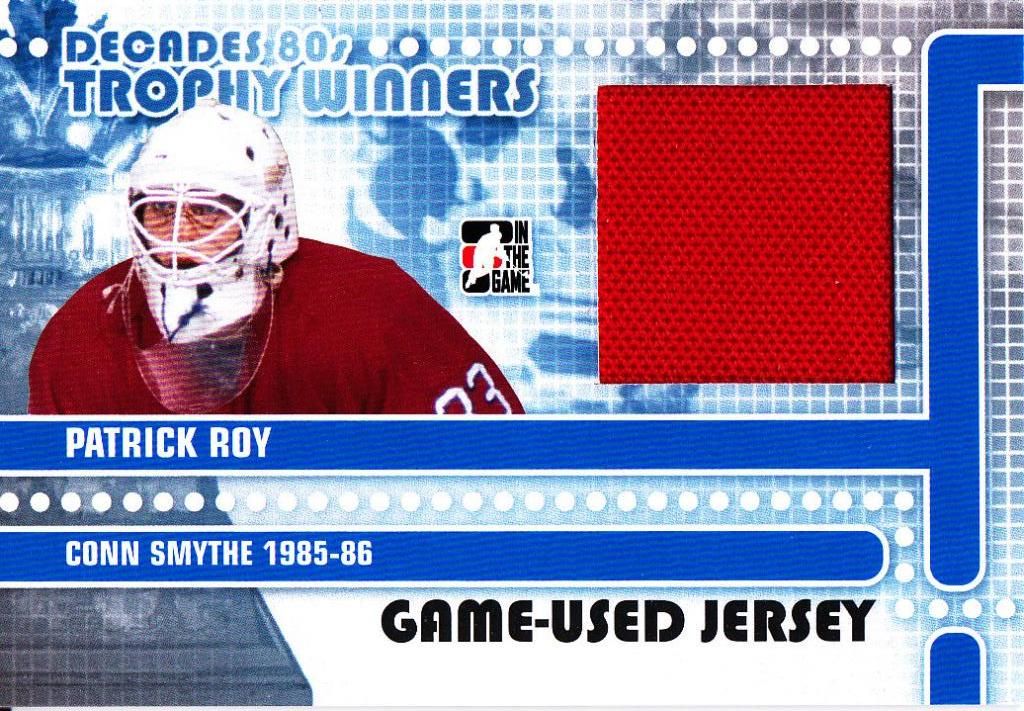 Next up is
Patrick Roy
(HOFer), who is certainly one of the most famous players in the set. I have no particular affinity toward Roy, but the card is sharp and while not as visually interesting as the standard relic set, still retains a certain eye-appeal missing from the autographs. Also, it helps to not end up with six players no one ever talks about anymore.
Finally, we get to biggest hit in the box. The card is limited to six and contains a Hockey Hall of Fame defensemen from the 1980s. Almost certainly, this should be the pinnacle of the box for me, as the actual number cards are multi-colored and take a piece of the number from a game-worn sweater and jam into a little cardboard window.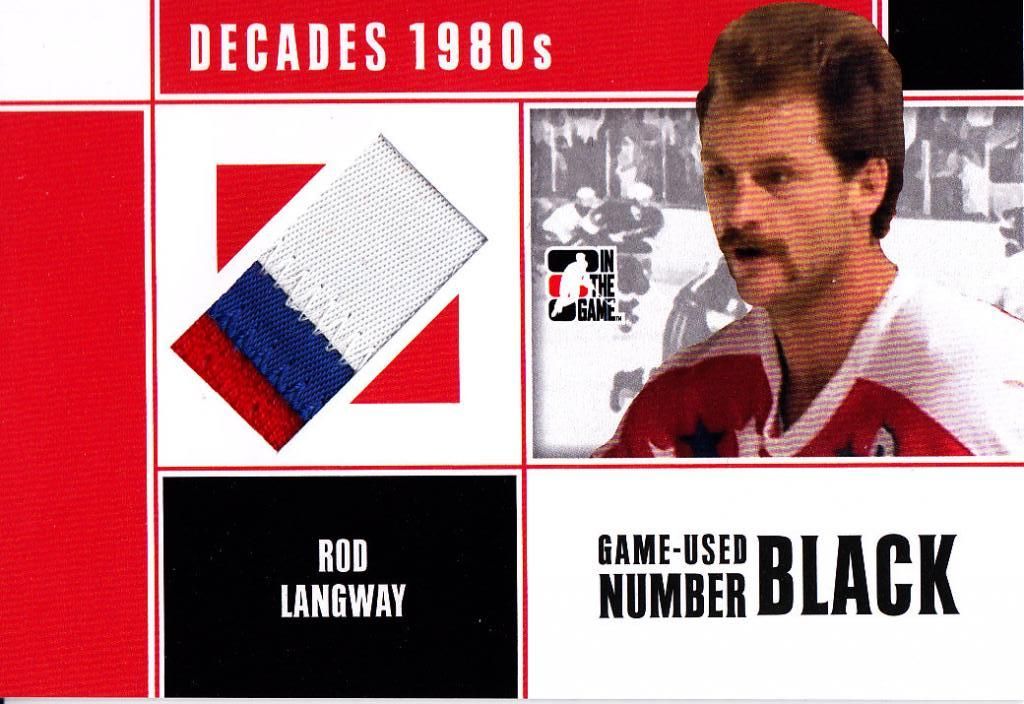 Rod Langway
...who I knew nothing about until I researched him. I discovered, like his patch brothers is also a Hall of Famer, though his induction is the equivalent of getting a Hall of Fame number from
Chick Hafey
. It's great there are only six of them and someone managed to actually sell a second of the six a few weeks ago. But on the whole, it is by far the most disappointing Hall of Fame defenseman I could have pulled, given my affinity of offensive minded defensemen.
That being said, I really enjoyed opening the box and liked the majority of the cards contained, not that I am wedded to keeping any of them, as they are all available on my trade list. But at the right price, this was a good break, as I knew it was almost certain to be an equity loser, but thought the experience was worth it. Unlike how horribly beat I would have felt if I bought this same box at the local card store.