Tobacco cards from the 1910s weren't limited to just the smaller sized cards found in a pack of cigarettes as a pack stiffener. Some cards were far larger and even had room for two players. One of the most novel designs of the era and probably all time was the T201 cards, presumably put into packs or cartons of Mecca cigarettes. The cards are quite large, 2 3/16" by 4 3/4", featuring a player on the front and another player,along with statistics on the back. Below is a scan of a Joe McGinnity/Lewis McCarty when they played for the Newark Indians.
As you can see, the card is far less square than a modern card, with a long picture of the Iron Man on the front. However, the back of the card makes no sense at first.
Poor Lewis McCarty has no legs and is facing the wrong direction, with his torso up in the air. Below him are statistics printed in the correct fashion, though here we learn Lewis McCarty didn't even play for the Newark Indians in 1910, but instead played semi-pro baseball. For quite some time, I owned just the one T201, locked away in a PSA protective holder. However, about a month ago, I had an opportunity to purchase a Hooks Wiltse/Fred Merkle New York Giants card. Given the very reasonable price, I jumped at the chance and it arrived safe and sound with no trouble. Below is a picture of Hooks Wiltse in all his glory.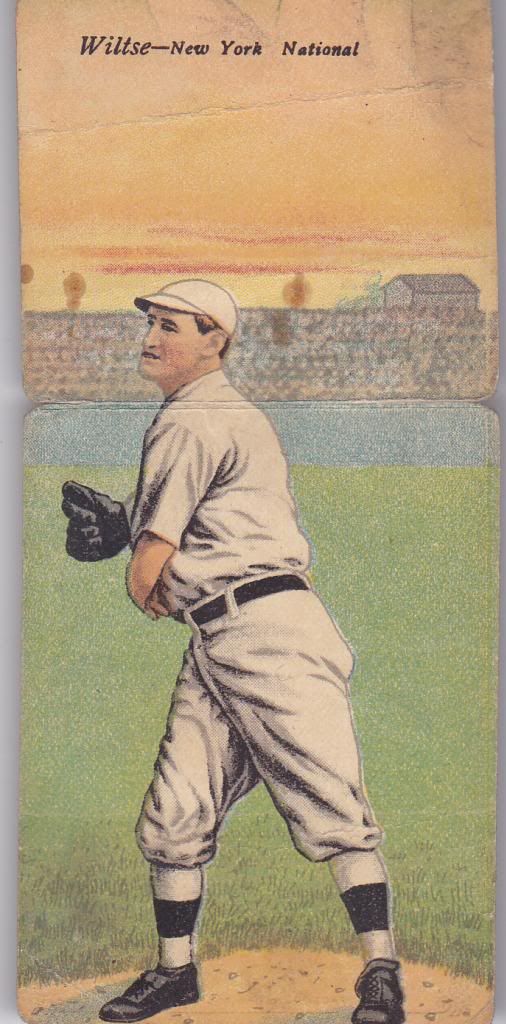 So, before the question was why was Lewis McCarthy's torso up in the air like that...and possibly, why is there a notch and a crease in the card. Well, T201s are designed to be folded. Folded over, so that Lewis McCarty's or Fred Merkle's torsos would match up with Joe McGinnity's or Hooks Wiltse's legs respectively, while hiding away their torsos and heads. Given the cards are 100 years old, I'm quite impressed the cards were designed to showcase two players and showcase one set of legs. And being the curious sort, I needed to see it in person. Now, as a completely untrained amateur, I am especially not qualified to safely fold 100 year old cards without further damaging the card, but I didn't let that stop me. Let's see the results!!!
Look, Merkle can use Wiltse's legs just as good as Hooks was using them just a moment before. And I didn't make the card any worse than it already was in doing so. Most importantly, it was kind of exciting to take something so old and use it in its intended fashion, even though it could potentially damage or destroy the card. The good news is this, I will never need to fold a 100 year old baseball card again.