A few months ago, Topps let us know they were releasing a WWE Heritage Set this year. Even better, in the sell sheet, they showed Michael P.S. Hayes of the Fabulous Freebirds as one of the autograph signers. As a big Freebirds fan, I was very excited. I spent a fair amount of time considering whether I should purchase one box or perhaps even two boxes, as I was excited about putting together the set and wanted to maximize my chance of pulling the cards I really wanted and to put together a set. Eventually, I settled on wanting just one box, figuring I would go and buy the Michael Hayes autograph separately.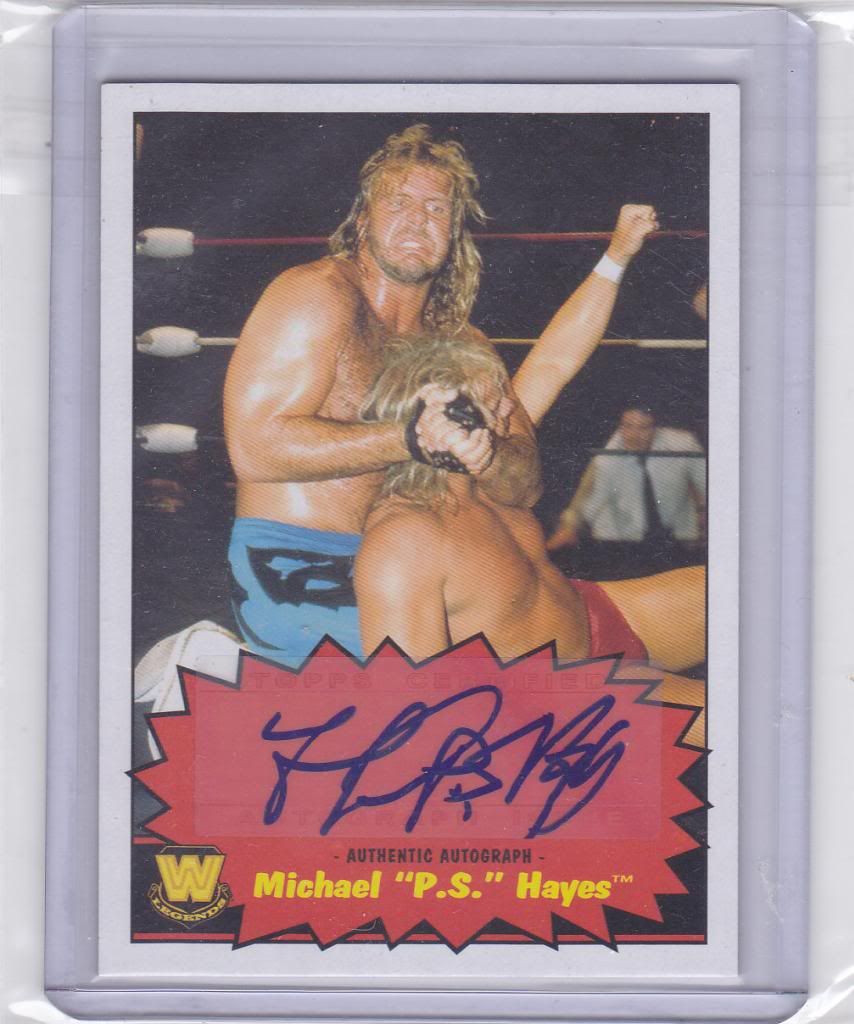 As the time approached, something strange happened. I didn't pre-order a box and when I went to my local store, there were no boxes or even packs of WWE Topps Heritage to be found. I was able to find the Michael P.S. Hayes Autograph above for $25, which was fortunate, because no one bought or opened a great amount of this product. I also found a base set, complete for $6 and shipping. I nearly bought a set with six insert sets as well for $40, but held off at the zero hour.
So, for the price of half a box, I was able to get a base set and the exact hit I wanted. I missed out on a few inserts and there was no joy in opening packs, but I ended up with what I wanted from the product, with no doubles, no fuss and half the cost. Thinking about this and given that most of my favorite players and performers are not the big names in a box, I can't imagine ever buying a new box ever again.
It's just the economics of it. I can get exactly what I want for a similar or lower price than actually purchasing a whole, unpacked box. I like opening things, but it now feels wasteful. Rarely do the hits outweigh the cost of the product and I lose control. I prefer control. I spent two plus years putting together a set of 100 year old cards. If I can complete that (and aside from sending a money order tomorrow morning and waiting, I have hit the mark.), I think I can wait out a set on eBay and save a few dollars to get exactly what I want.
Next time, we will discuss what comes in a five dollar box from Five Below, since just because I won't buy hobby boxes doesn't mean I don't like opening packs.