Group breaks tend to be difficult for me. My allegiances are not to a specific franchise, but instead to players, mostly players long retired. I like the camaraderie and the stack of organized cards, eliminating many of the cards I have no desire to add to my collection. Given these choices, I gravitate toward group breaks with retired players in the product and scan checklist after checklist before committing.
The Daily Dimwit
had a group break with 2008 Upper Deck Masterpieces, 2008 Upper Deck Goudey and 2012 Gypsy Queen. As the majority of the product was Gypsy Queen and this year's set did not have Christy Mathewson, but did have Ty Cobb, I signed up for the open Detroit Tigers, figuring I might pick up a few more Ty Cobbs for my collection. In a surprise, I only ended up with one Ty Cobb card. I did however pick up a few "hits" from the Group Break.
The Goudeys were not a success for the Tigers or the Twins, who were my randomized team. There were some base cards and I believe a mini Delmon Young...but there is no such thing as success with Delmon Young.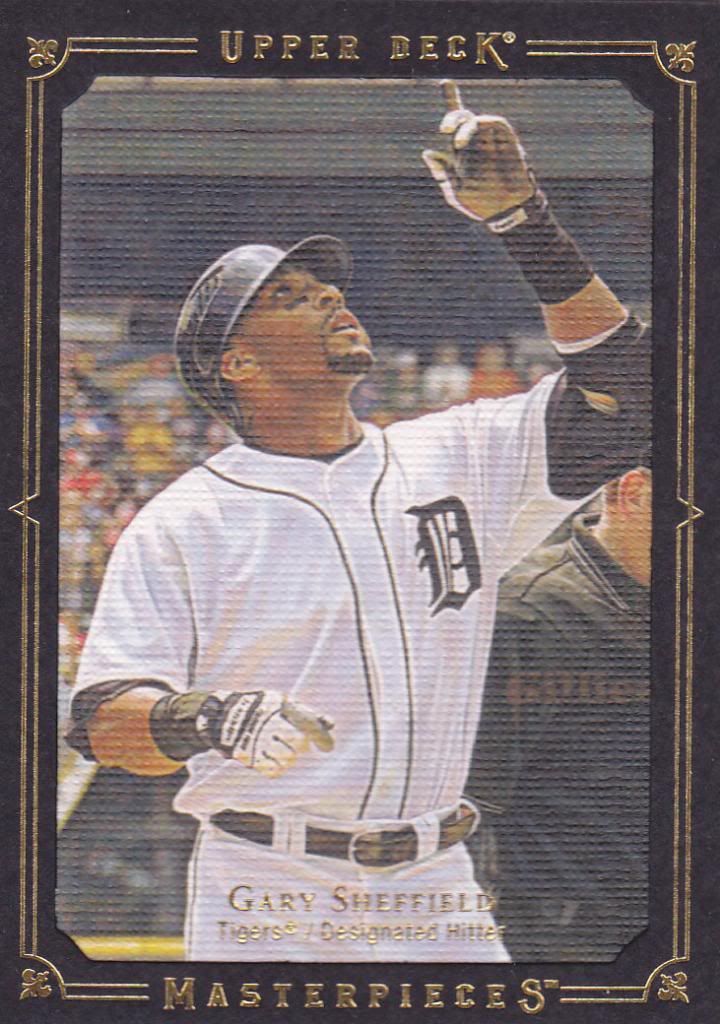 Upper Deck Masterpieces were a success with the above black bordered Gary Sheffield. The Sheffield is quite nice with some raised framing on the card. Definitely a keeper for my box of modern day cards. The real winner for me and perhaps the entire group break came from Gypsy Queen.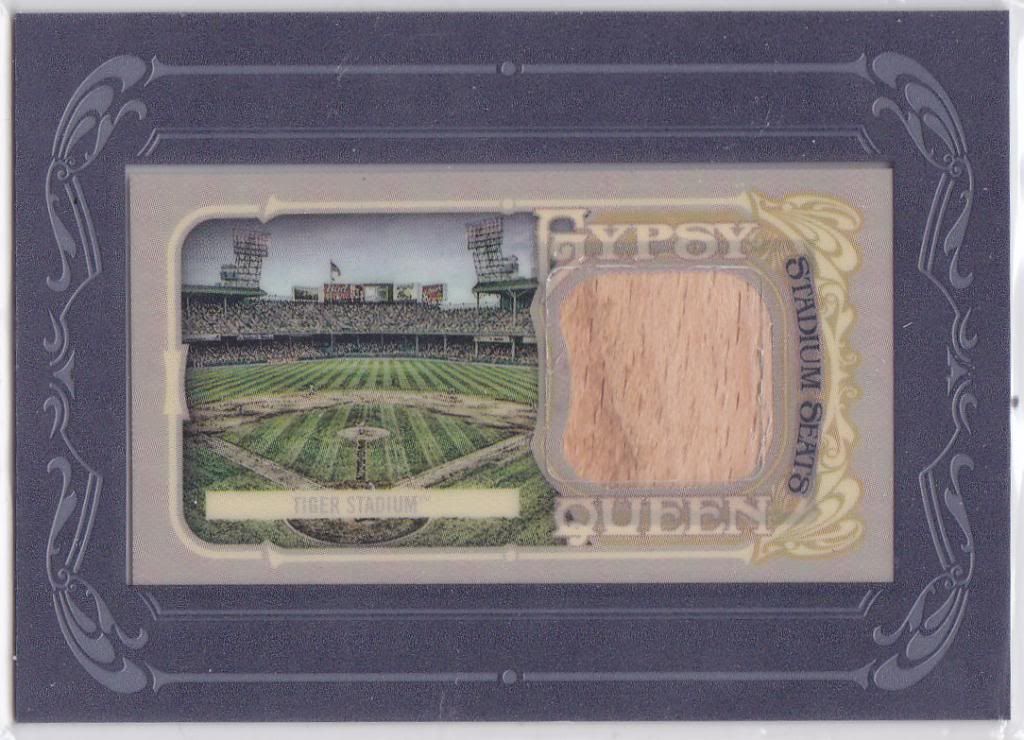 Yes, that is a piece of a seat from old Tiger Stadium on a framed relic numbered 82/100. The chances of pulling one of these cards from a pack were 1 in 4,200. On some level, I think that perhaps someone saw Sam Crawford or Ty Cobb from that seat, though it is more likely that someone saw Guillermo Hernandez or Bill Gullickson, but the illusion makes the card even grander. I must admit, seeing it in the video was cool, but in person it is even better, as you can just touch the wood grain on the card. I reckon the thrill of a hit like this is why we participate in group breaks, but also to get a card you might not think about or consider purchasing on your own. I never would have searched for one of these cards, but I am quite thrilled to add this piece to my collection.
So, thanks to Samuel for running a great group break and an even better blog.