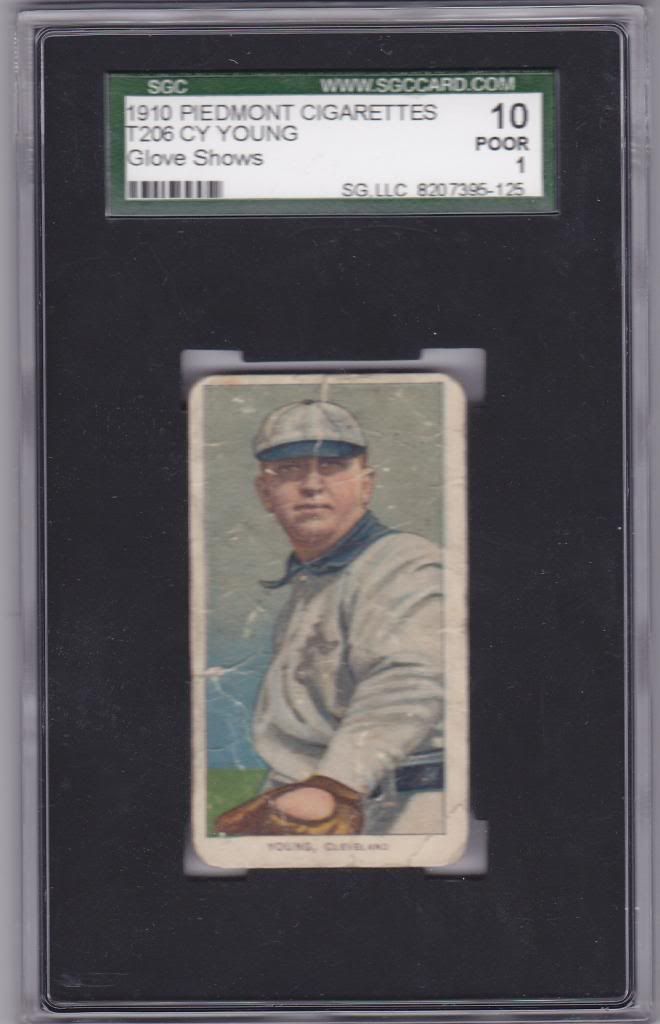 Given some of the other personalities of the era, I've never gravitated toward Cy Young . Even as I was preparing this undertaking, part of me said, "Ugh, three Cy Youngs to collect", one of which, Cy Young Bare Hand, is one of the worst looking cards in the set. Fortunately, I did really well on that card back in the day and added a Cy Young Portrait a year or so ago. This left me with a grey, old man sized hole in my set, with an obnoxiously large glove showing, which needed to be filled in order to reach my goal of completion.
A few weeks ago, I broke down and was able to negotiate a deal for the above card. As a Cy Young card, it doesn't offend me, as it shows Cy, showing his age and paunch, hurtling a ball towards home. As this is the very tail end of his career, Cy Young made his great return to Cleveland, starting as Spider in 1890 and closing out his career as a Nap in 1911. In between, Cy had some great years in St. Louis (part of the ruination of the 1899 Cleveland Spiders) and Boston (part of the Americans, before they were Red Sox and before the World Series and labor peace were guaranteed). But I always think of Cy in Cleveland, grey background, preparing one last pitch as he moves towards 500 wins.
In a somewhat related note, this is really only one of two cards with a grey background, with the other being the Nap Rucker portrait. I would imagine with the factories and just generally, rain, there would be more "dark" background T206s, but instead most harken back to pastoral images and sunny days, which are an easier sell than the darkness. But good old Cy manages to bring a small bit of the starkness of reality with the above image.