Nothing says sportscards quite like someone purchasing previously sold cards which have limited value, buying them in bulk, putting a stamp on them and charging 50 times the price they paid. Especially, since by doing so, they can skirt the issue of being able to place cards with Major League team logos without a Major League license. So, let's talk about 2012 Leaf Memories.
1990 Leaf is an enduring design, primarily for being one of the first high-end challengers to Upper Deck. It also rebranded Leaf from Canadian Donruss to a brand of its own. The set features higher-quality cardboard and metallic coloring and is far from the worst design of the era. Of course, avoiding bright yellow or mixing two off contrasting colors is usually enough to save you from that fate.
Obviously, with 22 years having passed, it is the perfect time to honor the memory of 1990 Leaf. Not caring about most non-Topps releases (and most Topps releases for that matter), I was blissfully unaware of this set, until
The Daily Dimwit
showed off his new Astros from 2012 Leaf Memories. Is that a new Mike Scott card? Limited to 20? To eBay!!!!!
I quickly find the above card with no problem, which represents 5% of the stamp run. So, basically, I was willing to pay $5 for a card, which is exactly the same as one I own, that I can get for less than $1 shipped. When you stop and think about that, you say, "Are you crazy, it's foil stamping, with no additional image?" Of course, the player collector in me checks it off the list and moves on without a care in the world.
Except the care of an autographed version of the card! Searching Mike Scott Leaf led me to the autographed version as well. An autographed version! Two Mike Scott autographed cards in one year. And limited to only 33 copies!!! To the bidding.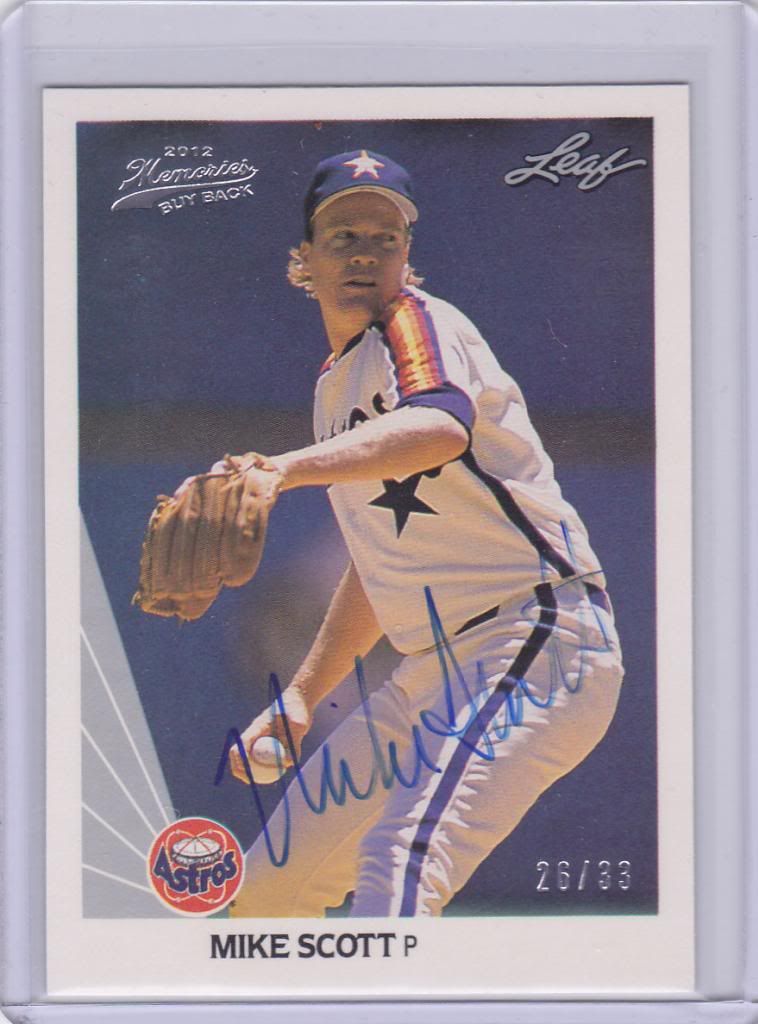 I actually lost the first two cards I bid on. One for less than I paid for this and one for the same price. After losing the second card, I made an offer on a third for the same bid price as the last card, but with free shipping. Fortunately, the seller accepted and I was only tied to one-eleventh of the print run on eBay.
With this out of the way, I can safely feel I found all of the Mike Scott cards I needed for the year. There is the Leaf History Cut Signature set, but somehow purchasing a piece of paper Mike Scott signed in a fancy holder holds no appeal for me, especially given the whole, Mike Scott is alive and signing autographs thing. But to each his or her own.