Not every tobacco premium was a baseball card. In addition to cards, they sometimes inserted discs with pictures of baseball players on the front and domino pieces on the back. Or if not a card, they would insert a pin into a package of cigarettes as the premium.
I happen to own a
Domino Disc
, which I bought at a local show a few years ago from a dealer who always has the strangest items and cards available, though I never did pick up a pin. One, I was afraid of purchasing sharp, hundred year old piece of metal, since many of the pins I saw were rusty and I prefer my hobbies to be tetanus-free. Two, I never knew how to store a pin of this nature safely. Three, the only Orval Overall pin I saw for sale was greatly inflated in price.
So, one morning a few weeks ago, I was checking my Orval Overall saved search results and I saw the pin with a respectable price. So, I raced over to the computer, turned it on and saw the pin was still there, awaiting a purchase. Which I finished prior to eating breakfast.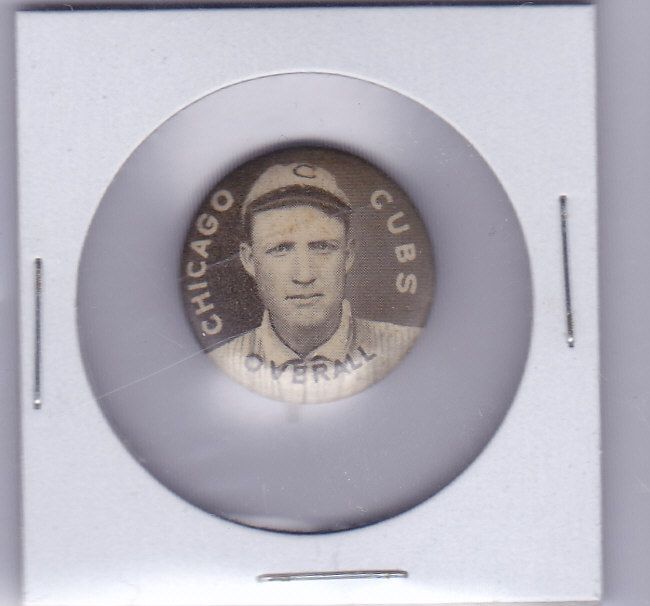 The pin has very few flaws on the face of the pin, but the back, which you cannot see is super clean and rust free. Rust-free is everything on a pin, so when I stick myself, I limit the diseases I can contract from the most dangerous item in my collection. And owning one pin is enough, as I do not need other faces on round pieces of metal affixed to a stick pin, just waiting to pierce my delicate skin, leaving me with a new hole in my hand and a trip to the doctor.