In The Game makes some of the best hockey cards I've ever seen. I think Decades 80s is probably my favorite set, as the players are those I grew up with, though if they ever make a Decades 90s product, I will probably be the moron thinking, "Should I pre-order a case?" Though, I think I would only do that if In The Game ever makes a Premier League product. I would probably just pre-order a box and set up a number of ridiculous searches on eBay to find everything I want, like ITG Decades Zubov or ITG Decades Murphy.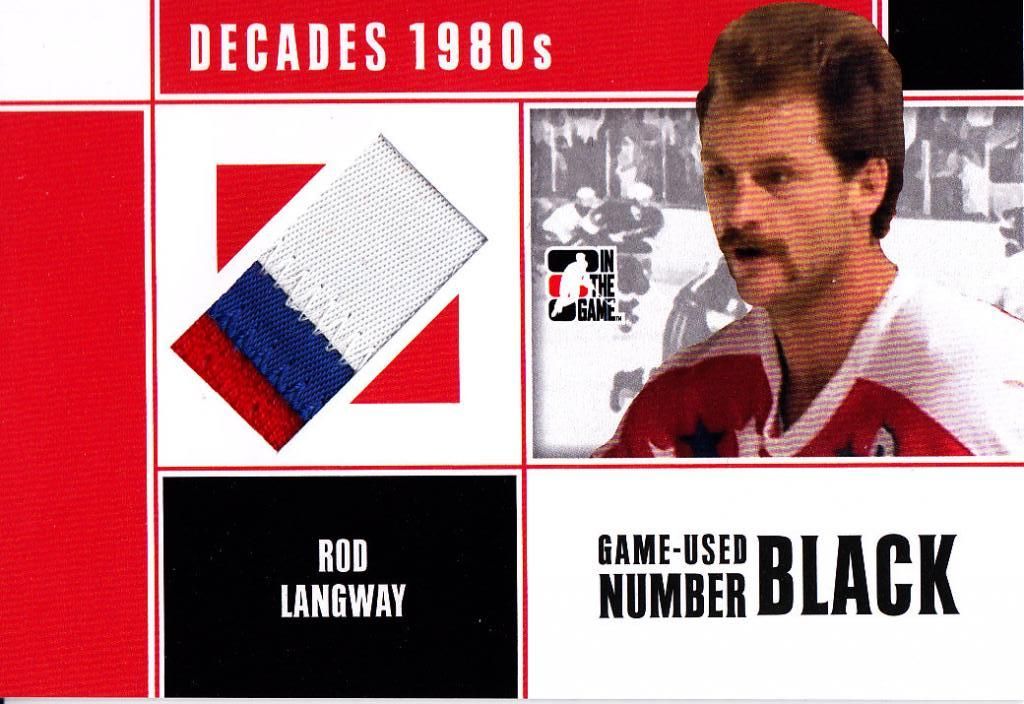 Going back to ITG Decades 80s, about five months ago, I purchased a box, highlighted by the Rod Langaway Number card, limited to six. Until about 10 minutes ago, I was unaware that Langaway was a two-time Norris Trophy winner. The card is quite cool, but I'm fairly certain, were I to pick a number card from someone in the set, I doubt Langaway would've made my top 40.
The best cards in my mind are the quad patch cards organized by year or team. Some of the year cards were interesting, especially those with Paul Coffey, but the Penguins fan in me gravitated toward the Penguins quad. If I could own a card with Mario Lemieux, Paul Coffey, Tom Barrasso and Ron Francis memorabilia on the same card, that would be the greatest card ever made. (If they substituted Larry Murphy on the card, I wouldn't protest either.) ITG came awfully close, making a Lemieux, Coffey, Barrasso and Randy Carlyle card.
The real question for me was, "Who is Randy Carlyle?", as I had never heard of him before. A little research on the internet shows he spent most of the 1980s with the Winnipeg Jets, but in 1981 was the only Penguin to ever win the Norris Trophy with an 83 point season. He was also indirectly traded for Tom Barrasso, as he was sent to Winnipeg for a draft choice that became Doug Bodger, who was the main piece used to land Tom Barrasso.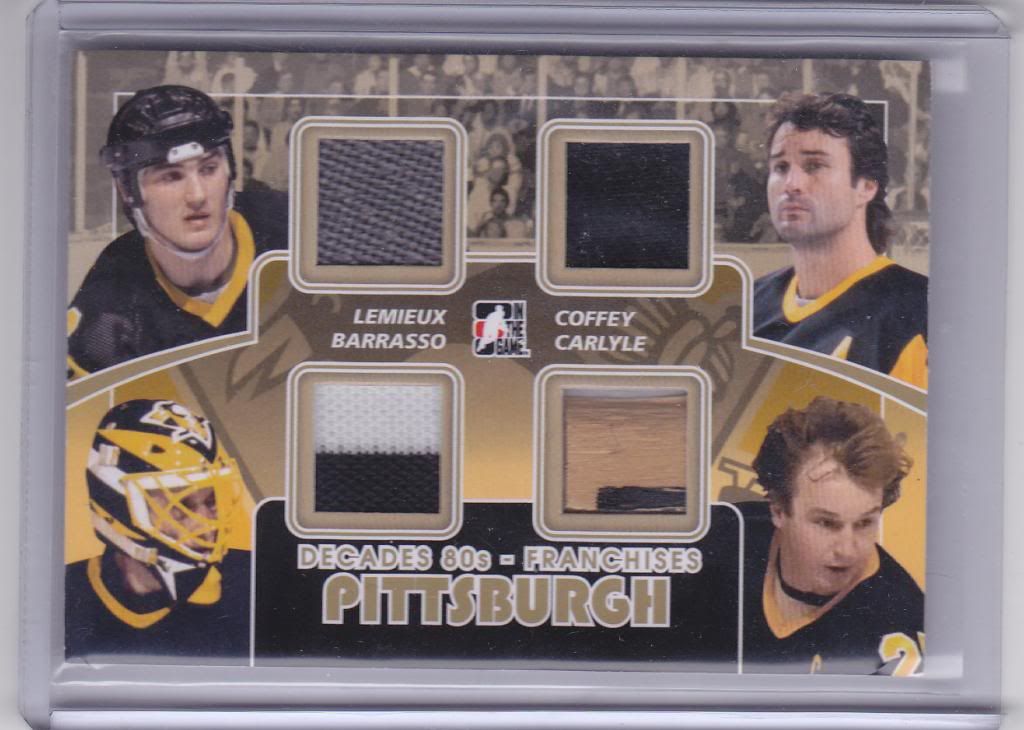 Plus, he is the guy who has the small piece of stick on the above card. It is the gold version and one of only two that I've ever seen for sale. This one was at auction, so the price ended up being right on the card, since my tolerance for what I would spend on a hockey card is significantly less than what I would spend on a baseball card, though I would spend more on a modern hockey card than a modern baseball card. All sorts of crazy priorities. I also like the different sweater colors found on the card as it provides a nice contrast.
With this card in hand, I can safely avoid searching for hockey cards for quite some time, since it is very unlikely that I would find a card which