After finishing up my T206 set, I was adrift in what I wanted to collect. I picked up a 1973 Topps Schmidt to force me to finish that set, but I haven't even looked for another 1973 Topps card since then. I picked up a few hockey cards, but after winning my white whale a few weeks ago, I haven't seen anything else that I really want to add to my collection either.
However, I was on a message board last week, when someone was unfortunately asking for opinions about which of the few cards he had left should he sell. On one side was an Old Judge Buck Ewing, while on the other side was a 1938 Joe DiMaggio card and a T205 Ty Cobb. In opposition to my usual temperament, I shot of a quick E-Mail indicating that if he decided to sell the Cobb, let me know as I would be interested.
So, a few days and about 20 PMs pass back and forth and my singular offer on the card is best in class. So, I make payment for the card and begin the waiting process. Yesterday, when I came home, there were two T205s, keys to the set, waiting for me.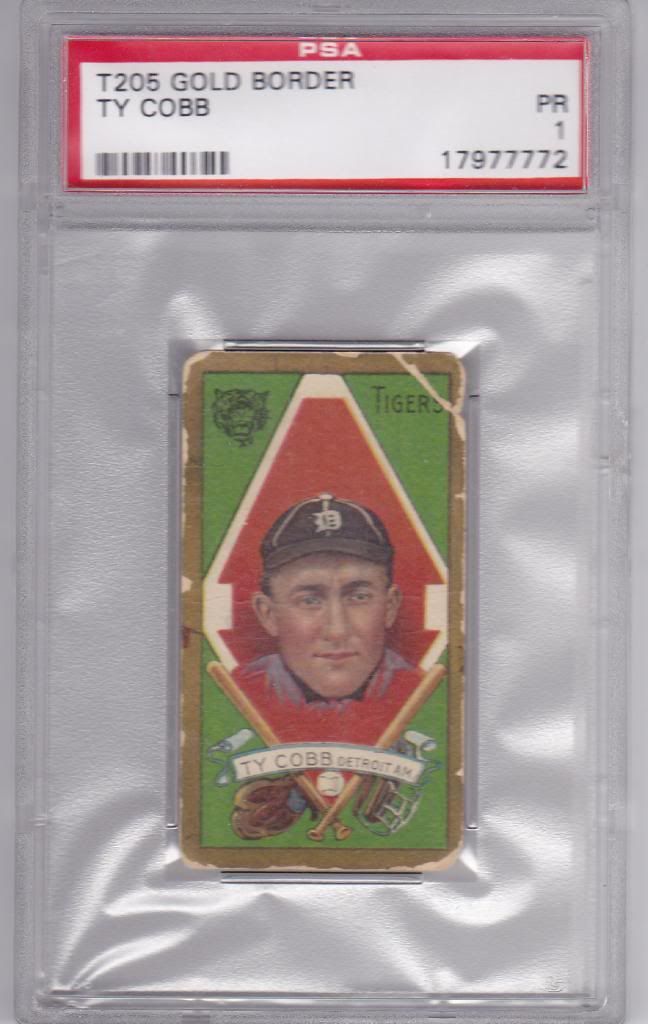 Despite the technical grade of the card, the card displays very well for the grade. Most of the damage is off in the corner and some small paper loss on the back, leaving the image of Ty Cobb untouched after 100 years. Someone also made an attempt to recolor the left hand border if you look very closely, leading me to believe that Authentic would be a more correct technical grade.
The back of the card and really all T205s are more interesting than those of their T206 counterparts. Like a modern card, they have text and in many cases, a small number of statistics. Here, we have Games Played, Batting Average and Fielding Percentage, which is not out of line with the stats of the day. Collecting T205s is a bit more difficult for this reason, as there are less obvious places to hide damage on the cards while giving them good presentation and remaining affordable.
So, a new journey begins, five cards out of the 220 cards safely in my possession.