I was going to post about the Johnny Evers Portrait I purchased a few weeks ago, but realized it was part of a group of cards I had yet to scan into my computer. Suffice to say, the card is very nice and in a few days or weeks or whenever I get around to it, you will see that as well. When I was purchasing my Evers and by purchasing, I mean repeatedly jamming on my refresh button on my Blackberry to see if I won the auction on eBay. Needless to say, the auction was won and other than forgetting to pay for three days, a rarity for me, the card arrived safe and sound.
As the Evers was one of the last cards I needed for my set, I started to think about the last time I almost purchased a Johnny Evers card. Someone who I had gotten to know fairly well was looking to move one he upgraded in July. The price was more than I wanted to pay for an Evers, but less than I ended up paying last month. But with the National on the horizon, I wanted to keep my powder dry and passed on the card.
Normally, such a card would be remembered but unremarkable. However, at the time, I was thinking that had I purchased the card, it would still exist, since the seller was located in Breezy Point, NY, which suffered tremendously during Superstorm Sandy. I hadn't actually heard from or seen the seller on the forums in quite some time, and despite not being a "people person", I was genuinely concerned about what happened to him.
So, flash forward to just before Christmas. I posted the last ten cards I needed for my T206 set on Net54 and heard from quite a few people, knocking off Solly Hofman, Foley White, Art Devlin and Phil Poland in short order. Checking my E-Mail the Saturday before Christmas, I saw it was from our missing seller, offering me a Sam Crawford Batting at a reasonable price. He couldn't send me a scan of the card, as his scanner suffered in the storm, but fortunately, his T206s survived, leaving him 20 cards short of completion. Without hesitation, I purchased the card, sight unseen, which you can do with someone you know and trust and even more, I was happy to hear from him and glad to know he and his collection were safe and sound...well, as safe and sound as anyone in Breezy Point could reasonably be.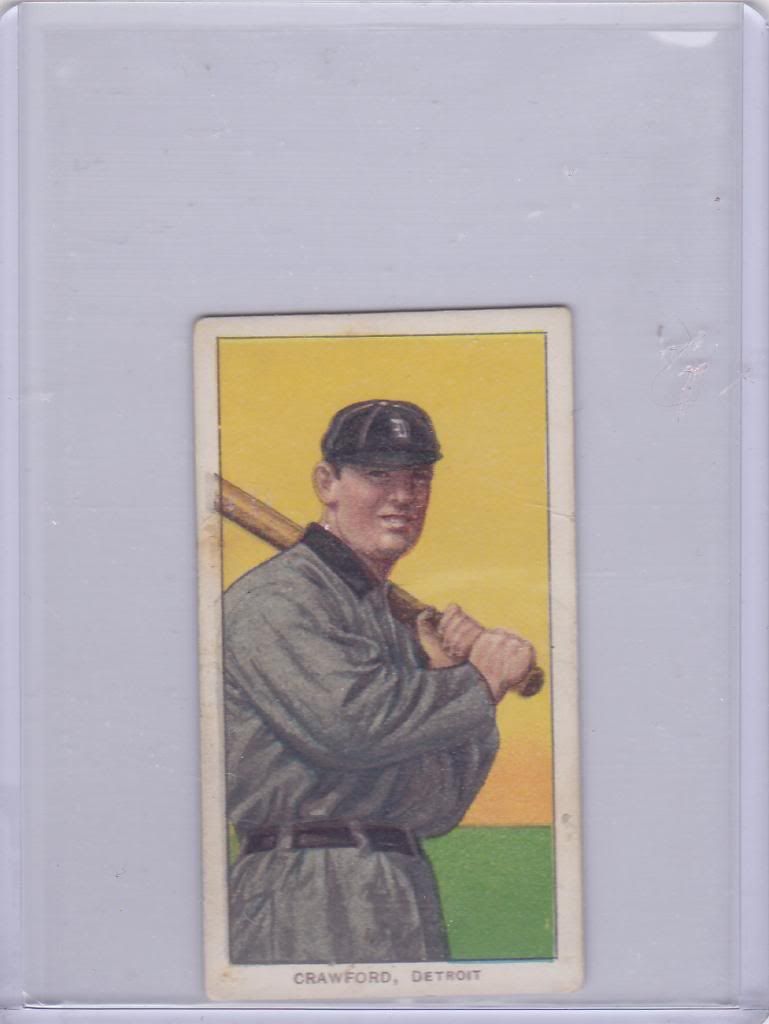 As I reach the end of my journey collecting T206s, I think about the cards themselves, which are beautiful, historical artifacts of a century ago. But more so, I think about the journey and the people I've met along the way. Whenever I think about upgrading my T206s, I'm always stopped, because while many of the cards could have nicer copies, they wouldn't have the same stories or be from the people I've met along the way. In a sense, buying an entire set is fun and easy, but it lacks a story and character. So, any time I look at my Sam Crawford Batting, I'll always get the sense of relief of knowing that someone who helped me along the way was safe and sound as well.