I'm a card show junkie. I love the concept of multiple dealers set up in a small area, allowing me to browse their wares and when the mood strikes, purchase from their respective tables. This also explains why I like going to antique stores and flea markets as well. If only I were a home and truck owner, oh the vintage furniture I would own.
Regardless, every second Sunday of the month, there is a small card show in a rec center about 20 minutes away. When I first got back into card collecting about two years, this was the first show I frequented, before I learned, yes, I will travel 2+ hours to a card show. With about 30 or so tables, there used to be a decent selection of cards and dealers.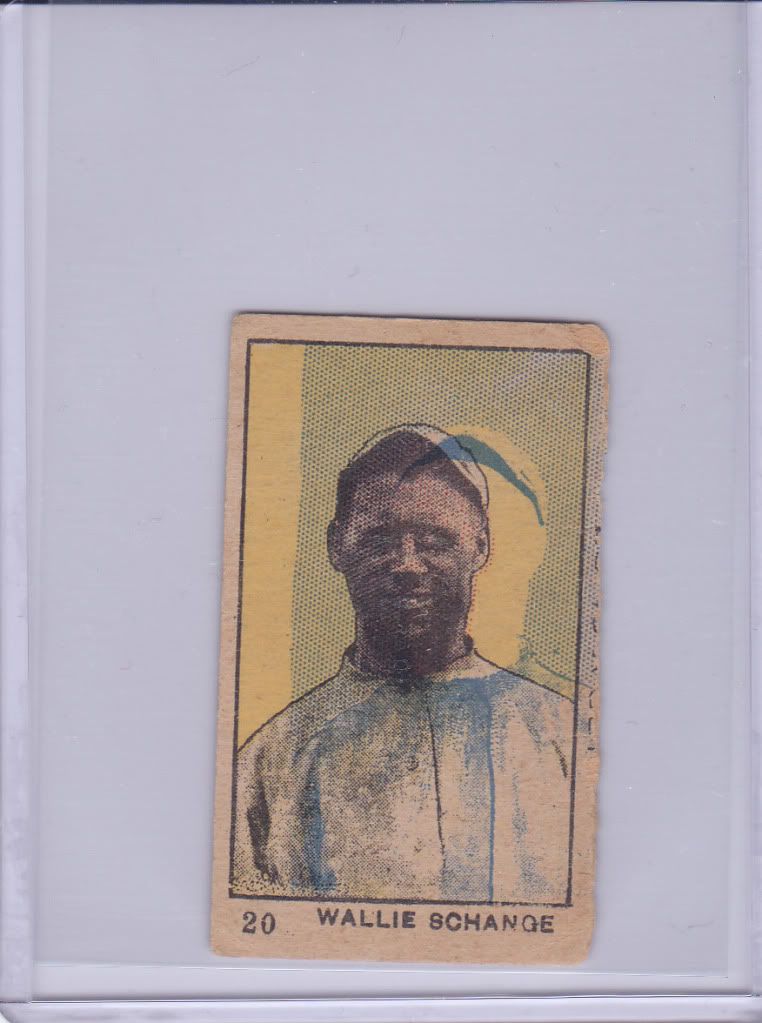 Over the last two years, both have disappeared from the show. One time, I went and there were six dealers at the show, which after paying my admission, led me to purchasing nothing that sad day. In the past, I managed to find some very interesting cards to add to my collection, like the Wallie Schange (Wally Schang) strip card with the off-center printing or the B18 Covalskie felt blanket that sits in a binder.
On Sunday, it was a struggle. I arrived and there were about 10 dealers at the show. There is one guy, who often has a great amount of oddball cards near the front, so I waited to go his table last. There was no current, unopened product to be had at the show, which was a little disappointing, given my desire to break something open. One dealer had commons from the most recent releases and a small shelf of cards from the 70s, which didn't call to me. Another, had cases full of new rookie cards and another having a large selection of football cards.
As I made my way around the room, I found one dealer who had a T205 for sale. The T205 set known as the gold border set, for the gold borders on the tobacco cards. Gold borders which almost always fleck off, making it hard to find them in excellent or better condition. I had seen the card before and refused to make an offer on the card, since it felt like buying for the sake of buying and I expect there to be a price if I ask. I believe the first time I saw the card, I was offered it for $150, which is only three to five times to real value, unless a card with somewhat damaged borders and less than perfect corners can be considered EX-MT. I saw the card again, marked $600 on the front, because the Mint price of a 100 year old card comes into play, never. Even with a generous discount, it was enough to keep me walking along to the next dealers.
Another dealer had just finished breaking a few boxes of 2012 Goodwin Champions, which he must have brought with him to the show. One of the cards for sale, was a Paul Coffey two color (white and orange) patch card. Having bought one for $1 on eBay plus shipping with only one color, I was somewhat interested in adding another to my collection. I inquired about the card, likely being the only person who cares enough about Paul Coffey to come to a rec center on a Sunday morning, expecting a price of somewhere between $5 and $10. The dealer, serious as can be, gives me the card and quotes me a price of $25. I didn't even waste time doing anything other than returning the card. I understand a show premium and will pay it for something that I want, but I would never pay a 5X show premium, which seemed to be the rule of the day.
Disappointed, I take a second tour of the show, as my regular oddball dealer, didn't have anything of interest, other than some very low grade 1963 Topps Flags of the World cards that I just couldn't pull the trigger on. I went back to the table in the far corner, where I spy a box full of boxes. Boxes of cards from the early 1990s. I looked and I looked and thought about a box of 1992 Topps Baseball, but decided that wasn't quite for me. I did however, see a box 1991 Stadium Club Hockey. The price was fair and I was able to leave the show with something I was quite interested in.
I've yet to break the box, but look forward to the rainy day project. I do hope the cards are not stuck together and perhaps the collation gods at Topps will be kind and I will be able to put together a complete set from the box.