Until this year, I was only vaguely acquainted with Goodwin Champions. I reckon in past years, I would see the cards at my local retail store and not be impressed by the base card or insert odds. Or I wouldn't look at the checklist or would still feel vaguely turned off by Allen & Ginter, which for some reason, never resonates with me, like it does for most collectors.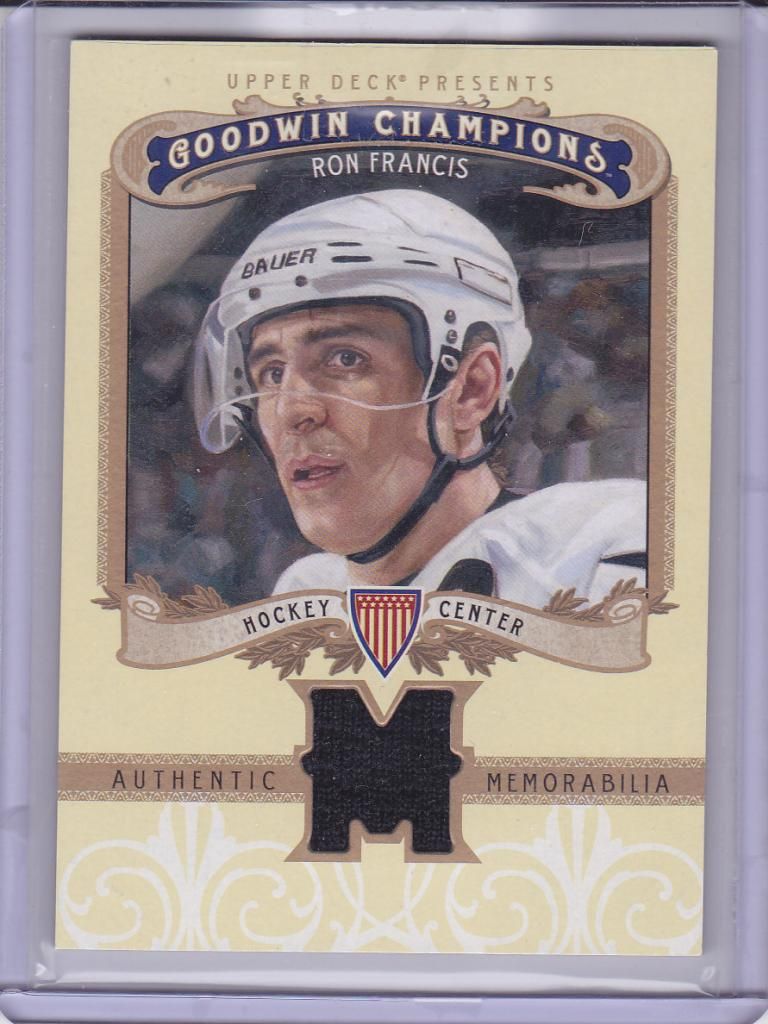 This year, I was at the East Coast National in White Plains and caved. I didn't cave for an entire box, but just one pack, to see what all of the fuss was about. Admitted, I enjoy opening packs, but seldom, if ever, convince myself I need a box of product to open, since rare is the set that calls to me or speaks to my card collecting desires which comes in pack format.
So, with a pack of Goodwin Champions in hand, my desire to buy unopened cards sated, I was able to begin the long walk back to the train station. Of course, with cards to open, I was unable to wait much beyond the entrance foyer to crack open the pack. Opening them, I found five cards, black bordered, with all sorts of strange images inside. Famous people wearing all sorts of odd clothing with almost nothing to do with sports. And a player selection that seemed odd, like Prince Amukamara and Jack Morris.
Finishing looking at the cards in the pack, I was unimpressed, but decided to look at the checklist when I made it home. Well, the checklist does have some fantastically interesting players on the list, like Pud Galvin and Jim O'Rourke. It also has two of my favorite hockey players of all time, Paul Coffey and Ron Francis. Scanning further, I saw they had relic cards as well and knew I needed to obtain them for my collection.
Nothing says sports card relic like a Hall of Fame Defenseman in a polo shirt. It reaches a certain height of absurdity which I find irresistible. It did take three auctions and one request on the
Blowout Cards forums
to get the Paul Coffey relic at a reasonable price. By reasonable, I mean $0.99 plus shipping. There was one relic, which was multi-colored including Edmonton orange, which I would have went the extra dollar or two for, but the owner didn't want to sell, given his exceptionally low rate of return on the box. The Ron Francis logo in resplendent Pittsburgh black was purchased for the same price in the first auction I found.
This did lead to a second pack of cards purchased at my LCS one day, when nothing else behind the counter struck me. Other than my first, only and last Jelly Roll Morton card, nothing in the pack even stood out to me. All of this led to a series of wacky, yet fruitful decisions which led to a quite nice score in another arena, but that is for another day.
Admitted, the cards obtained to date and the astonishingly low prices for guaranteed box hits likely killed any interest I had in purchasing a substantial amount of this product. I suspect that is how it will end up being for most new products as they come out, but that is probably a subject best left for another day.
Until then, I will continue to look for another set to collect, as I am more likely to purchase an original Goodwin Champions than the modern versions, except for perhaps a Paul Coffey printing plate, because deep down inside, we all know you can never get enough rare versions of HOF defensemen in polo shirts.