Perhaps the greatest part of purchasing cards is getting fun packages in the mail. Every day, I come home from work, excited about what might be there waiting for me. The last two days have been quite the opposite, filling my postal box with disappointment and grief, though with a little good fortune.
Yesterday, the misfortune was a combination of faults and flaws. Arriving home, I find two packages in my mail box and by mail box, I mean that little locked box in an apartment building that is kept indoors and safe from any harm. So, I take out the packages and find a little white envelope and a package from Britain. The little white envelope contained a Donruss pop-up card of Mike Scott. Any time I can purchase a Mike Scott card I don't have for $0.01 and $0.50 shipping, it should be a great acquisition. Of course, when you own seven of them and don't realize it, the package disappoints, stings a little even, as you realize for $0.51 all you have done is up your feedback and someone else's feedback on eBay.
The package from Britain was exciting. About three weeks ago, I won a Southampton soccer jersey on eBay. The buyer shipped a package to me and a few days later, let me know there was an error and he was fairly certain he sent me the wrong jersey, but the right jersey was going out that day and I could keep the package. The seller was more than generous and I would have been quite alright waiting for the package to arrive and confirming there was a problem prior to rectifying, but the seller went out of his way to fix. So, of course, the wrong package arrives and I was optimistic that it might be something interesting or usable. Sadly, it was little more than a AFC Bournemouth jersey in medium. Since it has been about half a life time since I could wear a medium in public, I have a spare AFC Bournemouth jersey I can never use.
Flash forward to today. I get home very late and find a package inside my mailbox. By inside, I mean somehow the mailman defied the laws of physics by not appearing the bend the package, but managing to get the package, with stiff cardboard to fit the diagonal of the mailbox, despite actually being slightly larger than the mailbox. Perplexed, I tried pulling the package, but was met with the stiff resistance of cold (actually room temperature), unforgiving steel. With some persistence, I was able to remove the package from the mailbox, but not without bending the package slightly and shearing the edge off one side of the package.
Getting upstairs, I take a few pictures of the package, in case I need to complain to the post office that our physics-bending letter carrier is aiding and abetting in the destruction of the U.S. Mail.
The package itself was the results of my first
Sportlots
purchase. I found a few dealers on Labor Day who had an extensive collection of rarer and offbeat Mike Scott cards I didn't own and placed a fairly sizable order. I was super excited about the order and quite scared, as I knew some of the larger cards were in this particular order.
In a fortunate turn of events, seller SoCalSpt did a tremendous job packing the entire order and nary a card was harmed, despite the best efforts of my mailman. In addition to a fair number of Canadian cards, I was able to get a Donruss Super Diamond King which is around a 5" by 7" card filled with George Perez artwork. I also picked up the below cards as well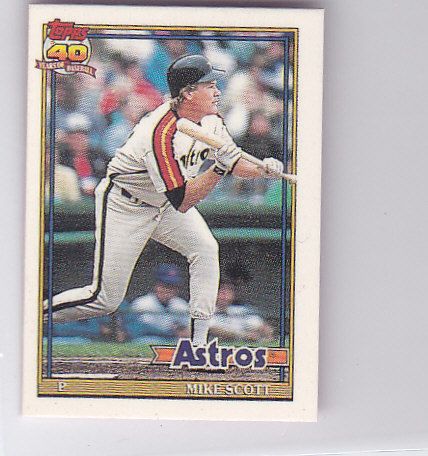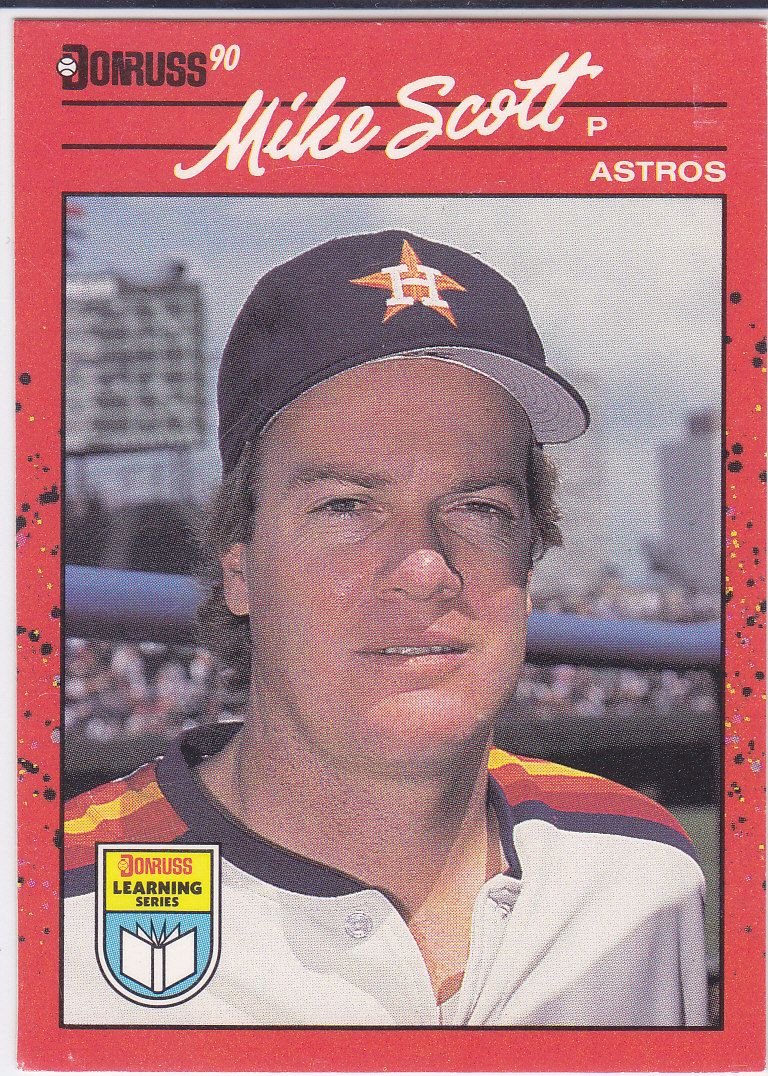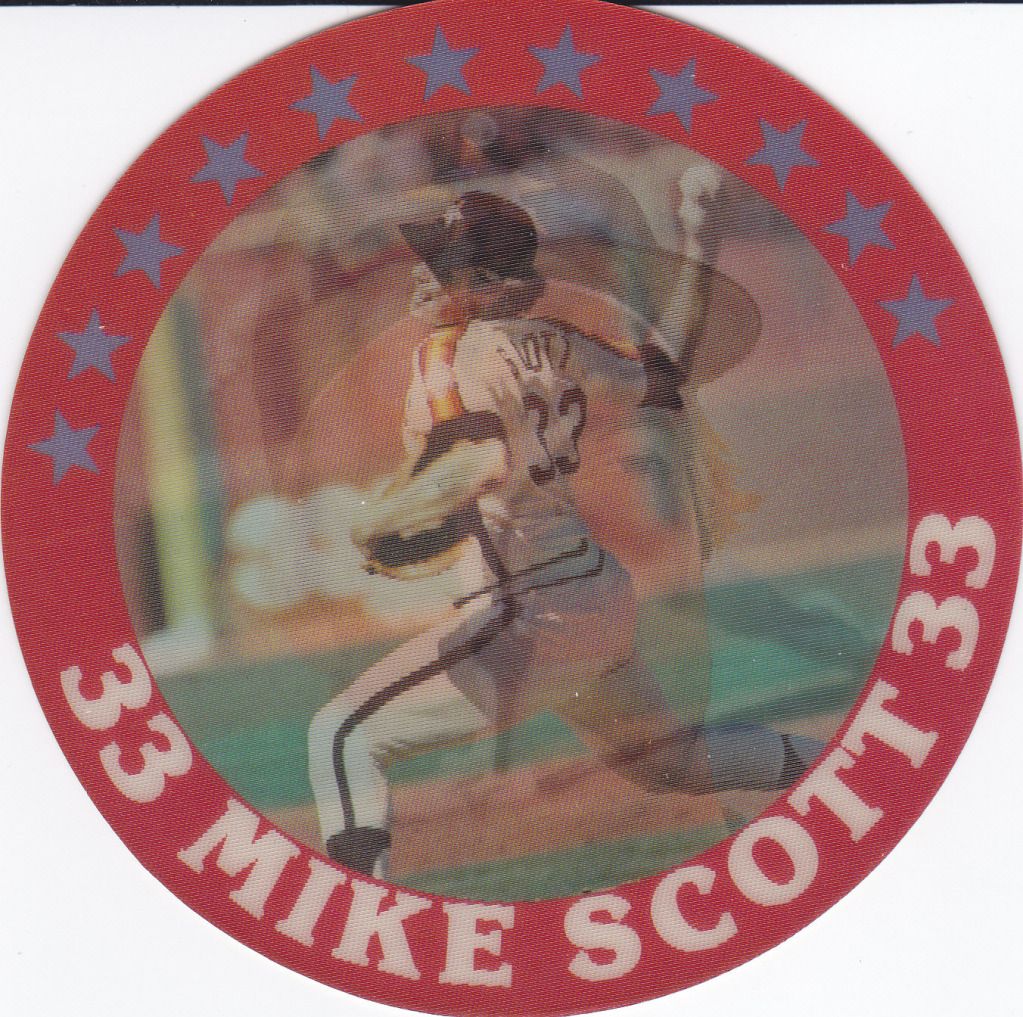 The 1991 Topps card is actually a Topps Micro, despite my scanner insisting it is a normal sized card. The disc was one of the giant Sportflics discs and is even cooler in hand.
What I thought was most interesting was the 1990 Donruss Learning Series card. The front of the card features the Learning Series logo, as well as a different picture than found on the standard Donruss card. However, the back is exactly the same, save the card number. Thanks to
Baseball Card Pedia
, I was able to learn these were supplied as learning aids to schools, though I cannot exactly figure out what is learned from these cards, other than you need to buy more cards. But that's what happens when you mix private business and public education.
Fortunately, thanks to some great care by a seller, mailday, perilously close to being ruined was saved and filled my day with the joy of new cards for my collection.