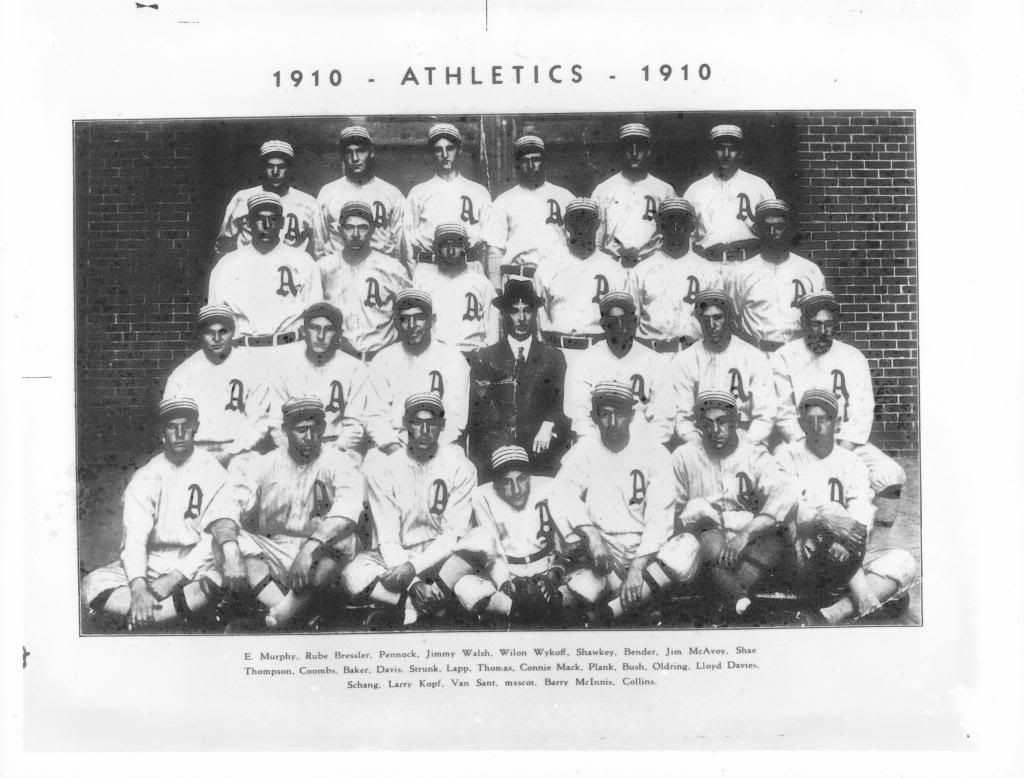 After going out to lunch with the missus, we went to a few of the antique stores in Somerville. Most of the sports-related pieces are often greatly overpriced, but fun to look at and generally, I leave empty handed. Today, was the exception to the rule.
I bought a picture of the 1913 World Champion Philadelphia Athletics. It was framed and for the store fairly inexpensive or maybe even very inexpensive. The frame is older, not pre-war old, because of the cardboard back, but definitely 80's old at the earliest, given the dangerous metal and actual glass in the frame.
The picture itself is a little darkened in the middle and if you look carefully, seems to be a picture of a photo. The picture doesn't extend to the edge of the paper and the creases in the picture are only visible on the picture and not part of the paper. The paper is definitely photo-paper and the size is just under 8"X10". To be honest, the piece makes no sense to me, as I cannot figure out who would want to take a picture of a photo of the 1913 Athletics, print it, then sell it in an antique store. What are the odds that I come through the door and think, "Hey, that would be cool looking around the house."
Nonetheless, I very much like the piece given its off-beat nature, the inclusion of six Hall of Famers (Connie Mack, Eddie Collins, Eddie Plank, Chief Bender, Home Run Baker and Herb Pennock) and was glad to pick this up today...until I think about the need to display it. Perhaps this is headed to my desk at work, since there is limited display room in my apartment for such treasures.