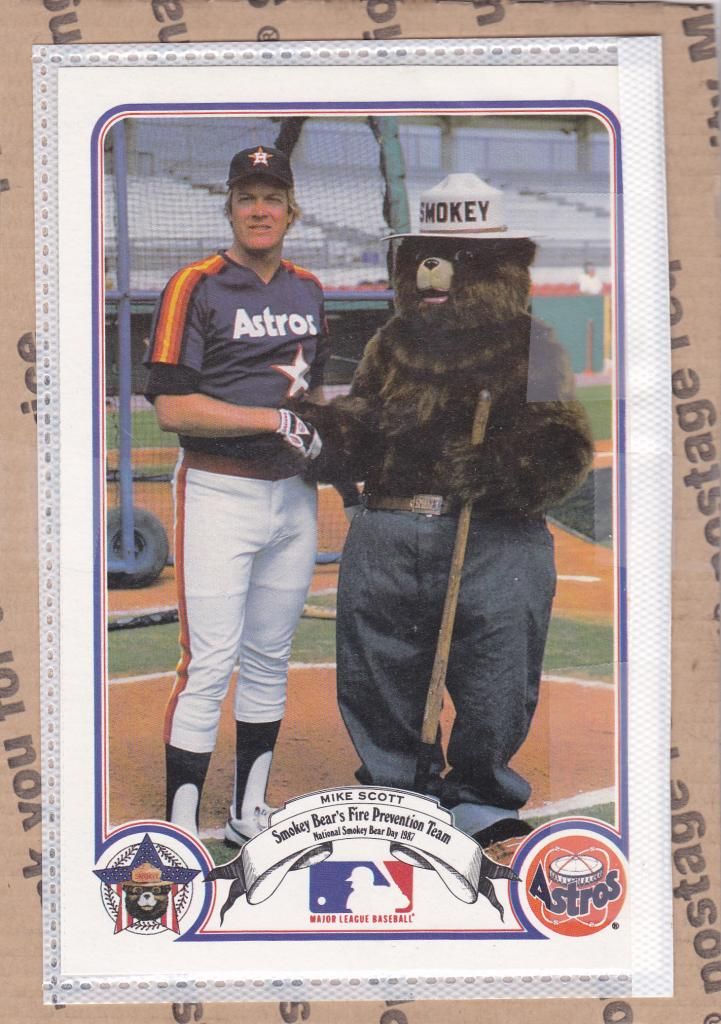 I think fire prevention is a cause almost all of us can get behind, given the destructive force and our love of our own material goods. But how does one convey the importance of fire prevention to large groups of people. With a talking, anthropomorphic bear wearing a forest ranger hat. That is how we pass along fire prevention.
But how do you get Smokey the Bear, everyone's favorite talking, anthropomorphic bear into the homes of people, especially children, who have yet to be conditioned to be afraid of fire's awe-inspiring power and force? Well, in the 1980s, it seems one of the preferred vehicles for our friend was baseball cards. Not just any baseball cards, but baseball cards featuring some of the second-best players of the day.
Until the other day, I too, was blissfully unaware that in the 1980s, there were series of baseball cards featuring Smokey the Bear. Smokey the Bear and established baseball players. When running some eBay searches for Mike Scott cards I might not already own, I found this gem, with an unhappy Mike Scott and a poor man in a bear suit. (Note to readers, Smokey the Bear is fake, like Santa Claus or the Easter Bunny. If I have ruined this for you, I would apologize, but really you should know better by now.) Not wasting an opportunity for a chance at greatness, I submitted a best offer, which was accepted, allowing the card to be sent on its way.
After a few days of waiting, the card arrived. At first, I could not figure out what would come in these two, paperback book-sized pieces of cardboard. But once I opened one side, I saw that the Mike Scott and Smokey the Bear card was in fact giant-sized and safely kept in the cardboard in a cloth and plastic protector, likely designed for photographs. I was overjoyed by the cards arrival and was able to resist the temptation to remove the card from its protection to see the reverse, knowing that by doing so, I keep the card safe for generations to come and gaze upon the magnificence of Smokey the Bear and Mike Scott.
For set and team collectors, I've put a checklist of the entire 26 card set below, as each team had one designated representative who was forced to pose awkwardly with a man in a bear suit.
American League
Baltimore Orioles - Larry Sheets
Boston Red Sox - Oil Can Boyd
California Angels - John Candelaria
Chicago White Sox - Harold Baines
Cleveland Indians - Joe Carter
Detroit Tigers - Jack Morris
Kansas City Royals - Buddy Biancalana
Milwaukee Brewers - Jim Gantner
Minnesota Twins - Kirby Puckett
New York Yankees - Mike Pagliarulo
Oakland Athletics - Jose Canseco
Seattle Mariners - Mike Moore
Texas Rangers - Charlie Hough
Toronto Blue Jays - Tom Henke
National League

Atlanta Braves - Dale Murphy
Chicago Cubs - Jody Davis
Cincinnati Reds - Bill Gullickson
Houston Astros - Mike Scott
Los Angeles Dodgers - Steve Sax
Montreal Expos - Mike Fitzgerald
New York Mets - Roger McDowell
Philadelphia Phillies - Steve Bedrosian
Pittsburgh Pirates - Johnny Ray
San Diego Padres - Steve Garvey
San Francisco Giants - Mike Krukow
St. Louis Cardinals - Ozzie Smith