James LaFitte
was not a Pirate, but he was a Brigand, a Peach, a Pelican, a Tourist, an Orphan, a Tiger, a Patriot and a Terrapin. On his own, James LaFitte is unremarkable, a turn of the century catcher who played minor league baseball in the South. But, as with many of the unremarkable players from the this era, he was on a baseball card, the T206 card you see below for starters.
He was also in Series 8 of the T210 Old Mill Series, which is the rarest of the 8 series consisting of these red border cards. This series also contains one of the earliest Shoeless Joe Jackson cards, which seldom come up for sale and when they do are very highly priced. To tie all of this together, LaFitte, as a New Orleans Pelican, was a teammate of Shoeless Joe, which was likely his greatest brush with fame.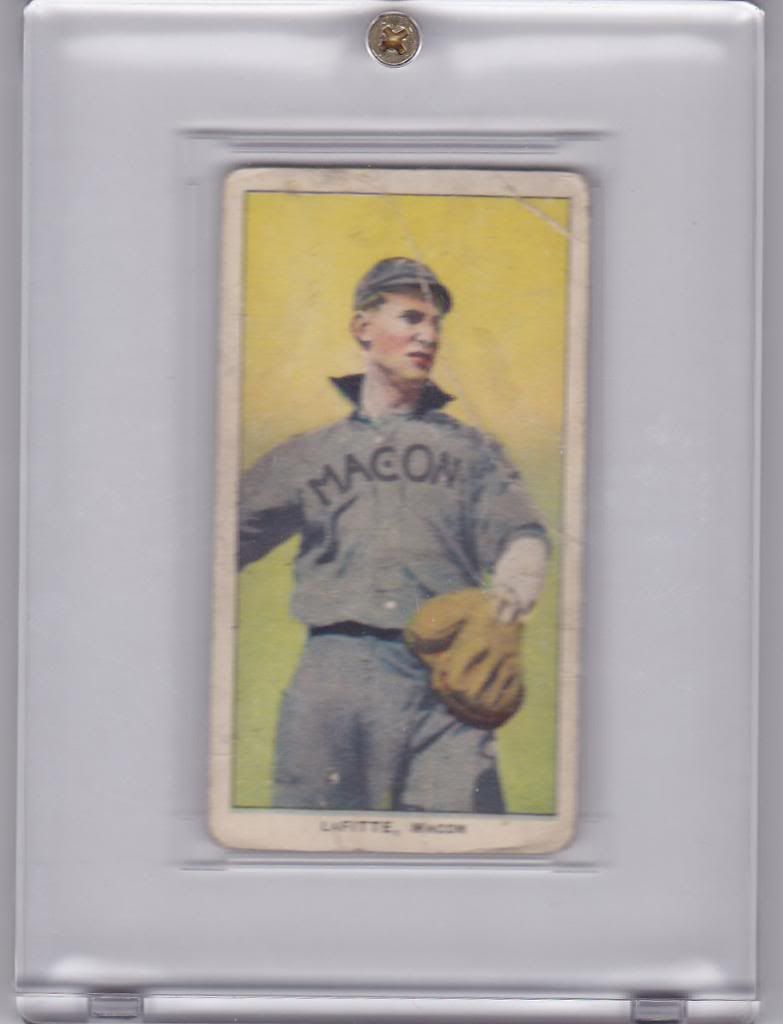 As to the actual image on the card, the best part of the card is the giant catcher's mitt. Otherwise, this is a fairly nondescript card with a pastoral green representing the field and some yellow showing as the background of the sky. Honestly, if he didn't share a name with a famous pirate, there would be precious little to say about this card.
With regard to the acquisition of this fair specimen, a gentleman had started working on a T206 set and became bored with the endeavor, switching pursuits from the classic tobacco card to 1933 Goudeys. Looking to trade, I was stuck, as I have only purchased Goudeys once in my life and sold those as they were one of those in-person show purchases you come to regret. Fortunately, he was willing to accept American currency and aided me by knocking three cards from my want list, with two being those rascally Southern Leaguers.