Coming home from work, I checked the mailbox and found packages...packages for me. Below are the highlights of today's mailbox filling.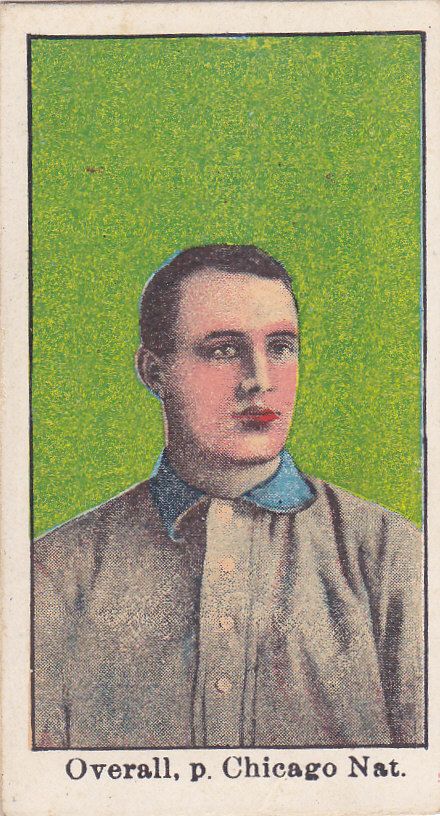 I managed to get another Orval Overall card. After posting some of my recent Orval Overall purchases on
Net54 message board
, I received an offer to pick up the above E90-1 Orval Overall, which is another American Caramel card from 1910. From what I have read, the Overall in this set is quite difficult to get in any condition and was quite excited to add this card. The card itself is beautiful and crease-free with a strong image, though it has one minor flaw. If you look closely at the lower right hand corner of the card, you can see that some card magician decided to make some small alteration to the card in an attempt to "improve" the corners. Doing so took what would have been a very valuable card and made it a very affordable card.
A great number of people are offended by trimmed or altered cards, refusing to purchase them. I, on the other hand, look forward to a nicely butchered card. Some of the best looking cards in my collection had a run-in with the old paper cutter, cutting the overall price by about 90% in some cases. So, an unfortunate trim in a past life led to a very fortunate addition to my collection, which I am quite pleased with.
The other great mailday show up with the autographed J.R. Richard card below. Combining foil board and a signature on a sticker, I don't think you could intentionally make two cards less similar than the two I posted today. I likely overpaid for the card, as unlike other bidders, I was unaware that J.R. Richard was still alive.
My earliest memories of J.R. come from a 1981 MacMillan Baseball Encyclopedia. It was about six years old when I bought this as a child and remember reading the book from cover to cover. As you might know, there were codes for all times a player missed time and J.R. Richard had a rare one, indicating he had a stroke. As an Astro who wore the orange sunrise shirts while throwing strikeouts like candy, he is a player I would have been a fan of, but for the whole stroke thing. Following up on wikipedia, I did learn that he had some hard times, but turned his life around, which is a lot better than the whole dead thing.