As I was wrapping up my vacation today, I did not expect to have a chance to get to the card show and then to North Jersey in time to get to the Meadowlands. Fortunately, we were meeting at Noon to get to the game, which gave me time to make it to the local card show. Unfortunately, we didn't leave for the game until 1 PM due to traffic issues and missed a fair portion of the first quarter.
So, arriving at 10:45, I had thirty minutes to sweep through 16 tables, purchase cards and head off to the game. Paying the dollar entrance donation to the rec center, I enter the show. Like we all do, I have a guy and he was off to my left at his usual tables. Knowing that I always purchase cards there, as well as stop and say hello, I save his table for last. The first table sadly had 2012 Topps Update singles, but when you show up unprepared for a show, you have to walk past the nickel commons where you only need 30 or so cards to complete the set and advance to the next table.
A dealer selling only football cards was friendly, but clearly had nothing to offer me. I turned the corner and looked across the way and saw some cards, nothing of interest and turned around to see a stack of Goudeys. Like strip cards, Goudeys and I have a love/hate relationship. About 18 months ago, I went to a different local show and not finding anything to my satisfaction, purchased a small stack of Goudeys. I never warmed to them and eventually sold them off so I could purchase and have room for more T206s in the pre-war boxes.
In a hurry, I picked up the Goudeys and gave them a cursory glance. I was thinking of purchasing just the Milton Gaston, but instead ended up with the entire lot. It seems if someone has pre-war cards for sale, they usually end up going home with me.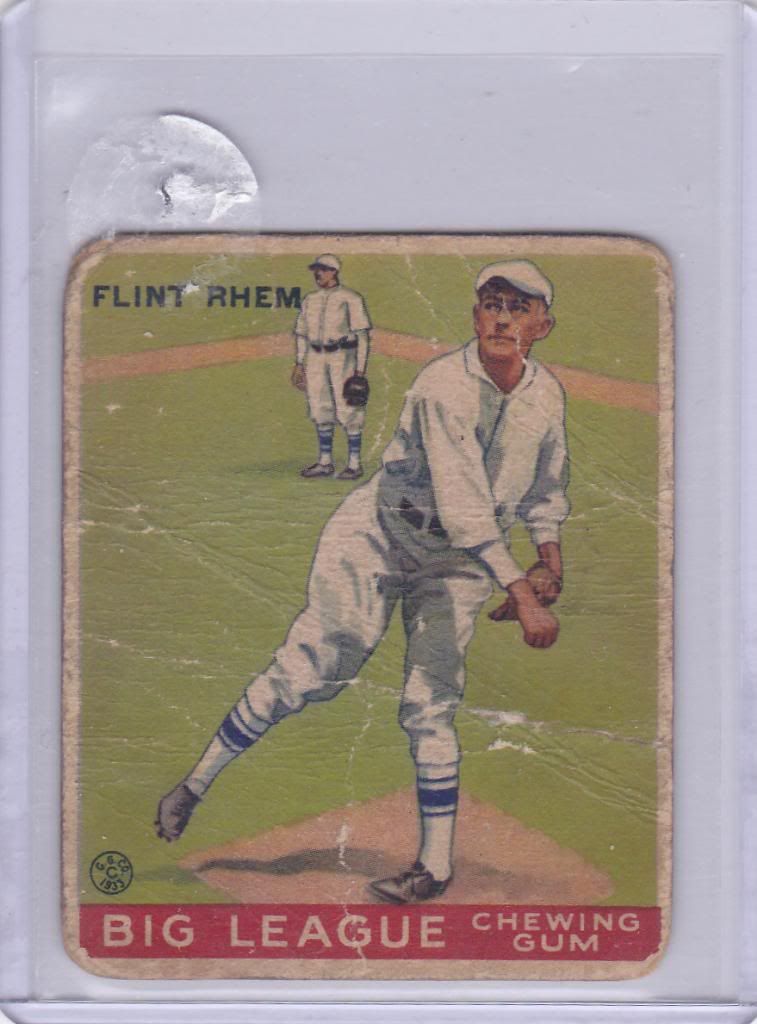 In addition to the Gaston, which had strong color where it remained on the card and was the cheapest of the lot priced individually, I added four other Goudeys to my collection, bringing my lifetime total to 10 and current total to 5. The Rhem is the most visually interesting, as the card's background contains more than a single color. I'm sure if we hadn't seen a major color card release in the last 20 or so years, we would also be content with the single color backgrounds as well.
The other cards are just kind of there, old, nearly 80, but inert. I suspect a year from now, give or take 12 months, I will end up moving these cards again for something that interests me more. Being pressed for time, I knew I couldn't take my usual second lap and see whether I really wanted, so I pulled the trigger on these cards to make sure my trip to the show was not for naught.
As we shall see, I did not stop with these Goudeys and found some other cards which contain an even greater appeal to me.