The
Chalmers
is an otherwise forgotten automobile maker from the 1910s and 1920s. Unless you are a baseball fan. Then the Chalmers represents two things, the 1910 batting title and the first modern MVP award.
In reverse order, Chalmers sponsored an award for the most valuable player from 1911 to 1914, a forerunner of the modern MVP award. The award came about, in part, due to the craziness at the end of the 1910 season.
As you might be aware, the Chalmers company offered an automobile to the player with the highest batting average of the season. Back in 1910, there were a few primary candidates to win such an award, Honus Wagner, Napolean Lajoie, Ty Cobb, true hall of famers and elite hitters. Well, Wagner didn't have his best season, but Lajoie and Cobb both had excellent seasons, pushing the batting title race to the wire.
On the last day of the season, Cobb held the lead at .385 and sat out, while Nap Lajoie was playing in St. Louis. With the third baseman deep on the outfield grass, Lajoie went 8 for 8, bunting each time, with a ninth at bat ruled an error, leaving him just shy of Cobb for the batting title. Given Cobb's status as one of the most reviled players of his age, it was no surprise to anyone that shenanigans were abound, as Browns coach Jack O'Connor ordered his third baseman to play deep and worse, attempted to bribe the official scorer with hurler Harry Howell, in order to change the last error to a hit and push Lajoie into the lead. (As an aside, I do own both T206 Harry Howell cards, but sadly, neither is scanned and will need to be saved for another day.) Both Howell and O'Connor were banned from baseball for life for their actions, showing you should never attempt to bribe someone for a petty matter which has no impact on your life.
We did learn 70 years later, that in fact, Lajoie won the batting title, as Ban Johnson or someone in his office, added an additional 2 for 3 day to Cobb's seasonal stats, falsely moving him ahead. In the good news, the Chalmers company, recipient of such great publicity, granted both Cobb and Lajoie Chalmers automobiles as winners.
Now, why did I write this extensive post on an historical footnote? Well, last year, Topps release a short print card of Ty Cobb. Well, they issued two of them, but in one of them, Cobb is driving a car, crazed look in his eyes. Not being a car expert, I am forced to believe he is driving a Chalmers, because it is a far better story than Ty Cobb in a Ford.
And recently, I managed to pick up three of these cards, only getting shut out on the Hope Diamond version of the card, after losing on three Best Offers for the one on eBay. Here they are, in worst to first order.
3. Diamond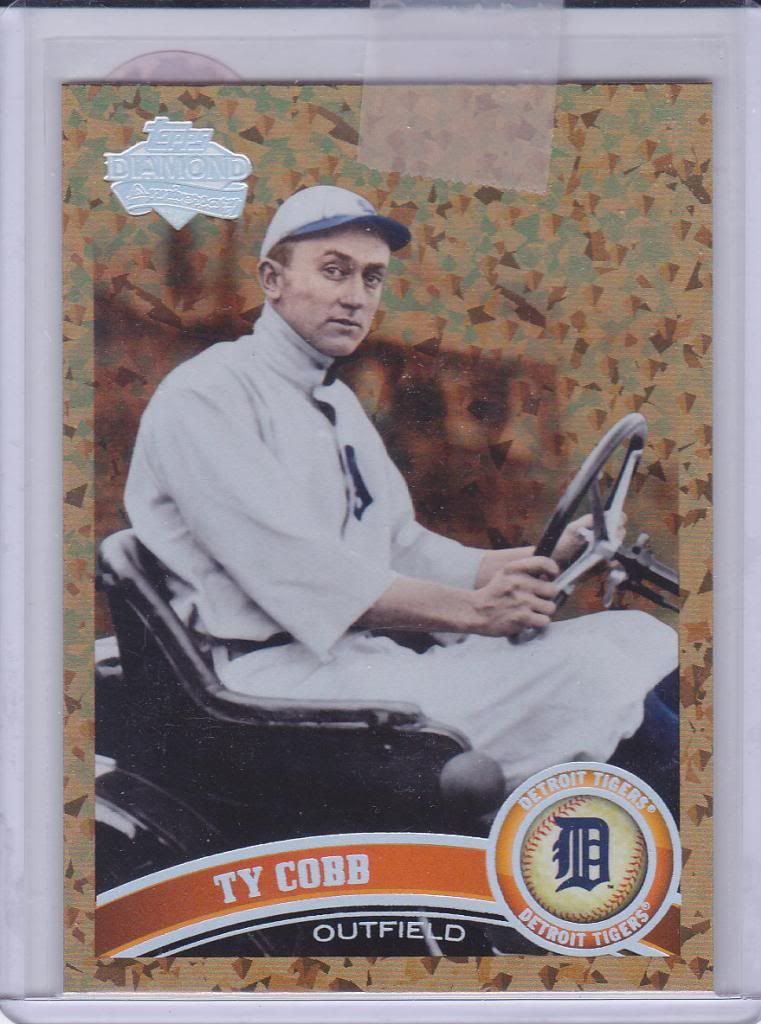 2. Cognac
1. Short Print - The sparkles really detract from an image of Cobb I had never seen before, despite knowing a fair deal about the fellow from many of the fine books written about him.
And, because you didn't ask, here is a second T206 Cobb card I own, not previously shown on this blog.
The damage on the card appears to be some combination of acid or small mammal. As the card is encased in protective materials, we will never know, as I am not cracking this card open to check. And to be quite honest, if you can get past the upper left hand corner, it is a decent enough card with strong color. Besides, as my first T206 Cobb, it will always hold a place in my heart.