Perhaps the best thing about a vacation is a chance to explore new environs. There, you might see a new sight or gain a new experience while getting away from your life. Or you might know every store in another area which could potentially sell sports cards and memorabilia and go there instead. So, my time away led to an area I knew well filled with antique stores.
Try as I might, I was unable to find anything in the first store I went to. I nearly purchased a box of 1993-94 Parkhurst cards, but the box had seen better years and was at best, slightly opened and worst, horribly mutilated. I also saw an interesting baseball game from turn of the century, but it was quite large and would neither fit in my car nor store easily in my apartment.
From there, we went to another antique store, where I had some luck in the past, adding a few T206 Cubs to my collection, including a Harry Steinfeldt. Arriving, I took the slow walk around the store, stopping to look a the baseball memorabilia and the Statis Pro: Boxing game I never buy. I arrive at the case containing the pre-war cards and get the store worker to open the case.
Flipping through the stacks, I realize that I need none of these cards to complete my set. There is a Rube Kroh with an overprint on the front (the Piedmont reverse from another card or strike was visible on the front) and there was a strange mass of color on the back. You could make out a shape in the card, but I could not readily tell the player or if there was a highly collectable ghost image in the back. I dither and think about it, before putting the card back, because it was either a great steal as a ghost image or a horrible overpay as a regular, low grade T206.
I also found an Orval Overall Hands Face Level. It was the cheapest T206 card in the store, less than I pay for lunch most days and as one of my favorite players, I have a soft spot for all of his cards. Even though I own a slightly better version of the card already in my collection, I picked up the below card, because I hate leaving the store without something.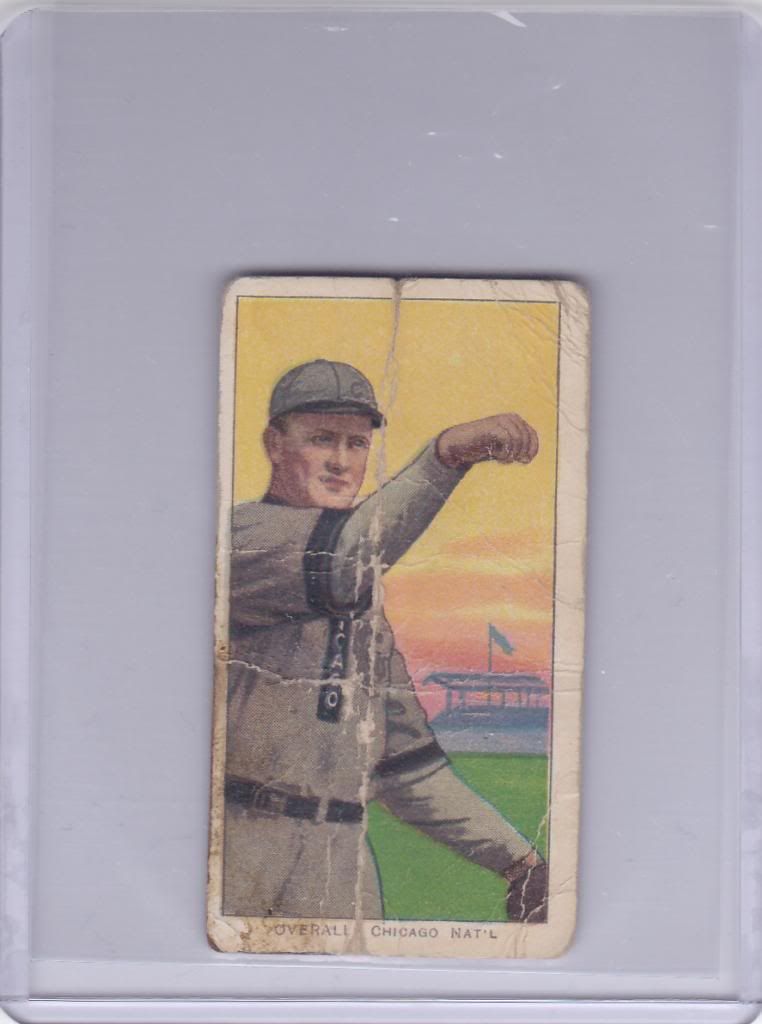 Sadly, I found nothing else on my vacation, but had many a card waiting for me at my front door when I came home.