Not content to take the two Diamond Stars, get into my car and drive on to the Meadowlands, I continued to search through my regular dealer's stacks of cards. I was also able to pick up the worst card I've ever seen for sale and let me tell you, I have a few T206s which I cannot fathom how they survived to this point in their weakened condition. But feast your eyes on the below: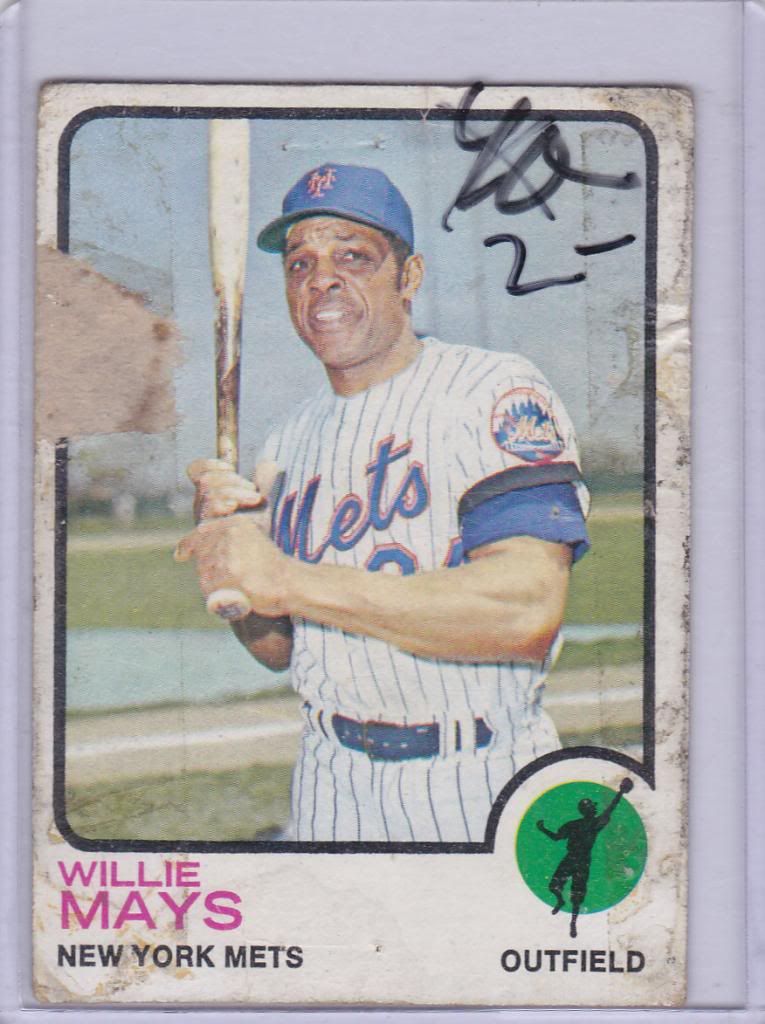 Poor Willie. The left hand side of the card is missing a piece of the picture. The right hand side has a clear piece of tape along the card, but not in a load-bearing way. Dirt covers a fair portion of the card as well. Weakened, chipped corners frame the card. A pinhole of some sort pierces through his arm. Thankfully, the writing is actually not on the card itself, but instead on the holder, with the 40 representing book value and the 2 representing a pre-purchase price. But it fills a gap in my 1973 Topps set.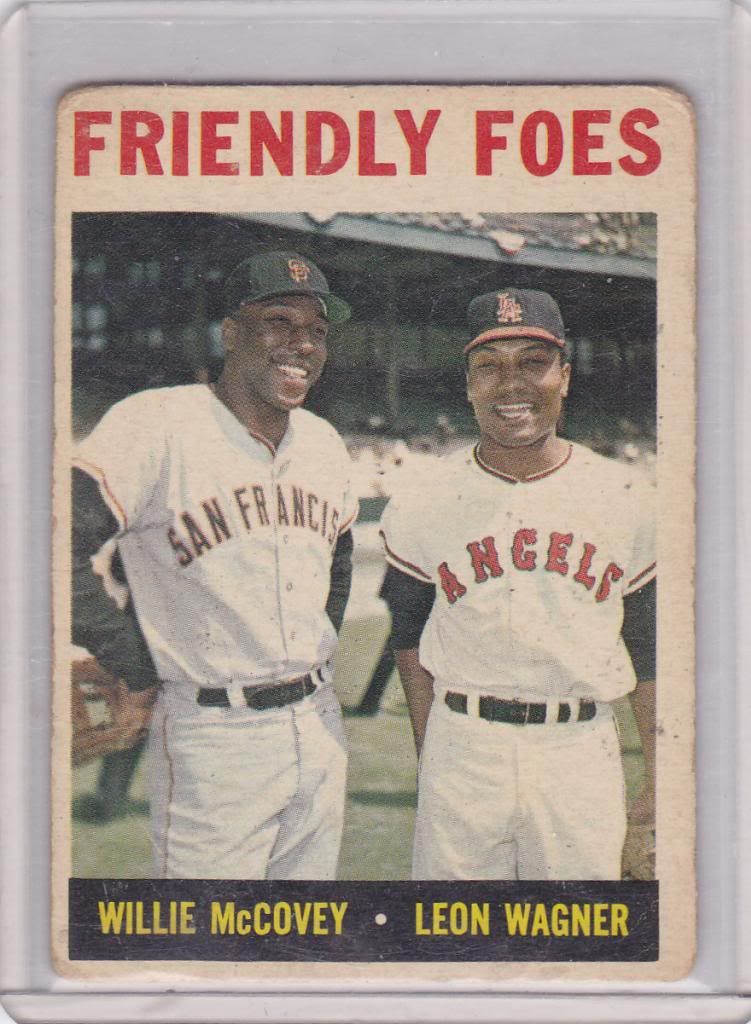 What can I say, I've always had a soft spot for anyone who can sell clothes with the line, Buy your rags from Daddy Wags. Surprisingly, this is my first Leon Wagner card and even though there is a small amount of penmanship on the back in the baseball, I am quite pleased with owning this card.
As a general rule, I don't care for basketball cards. I'm not much of a fan of the sport, but I have soft spot for any card which you can separate into three pieces. So, I always purchase any 1980 Topps Basketball cards where I can recognize at least one player on the card.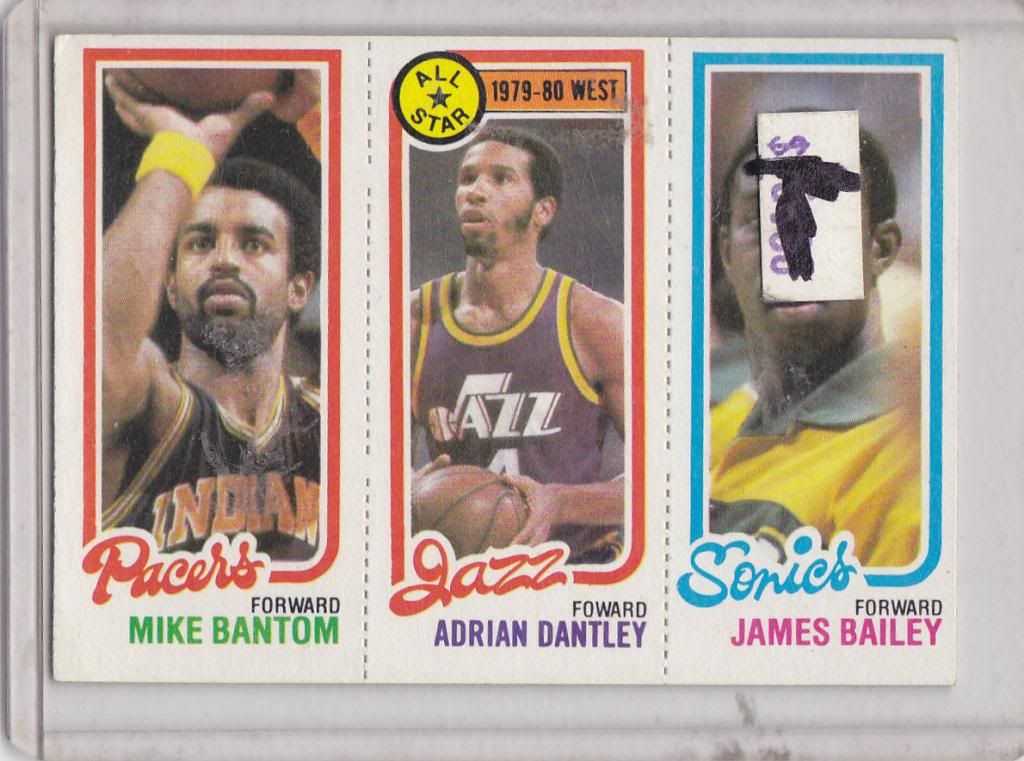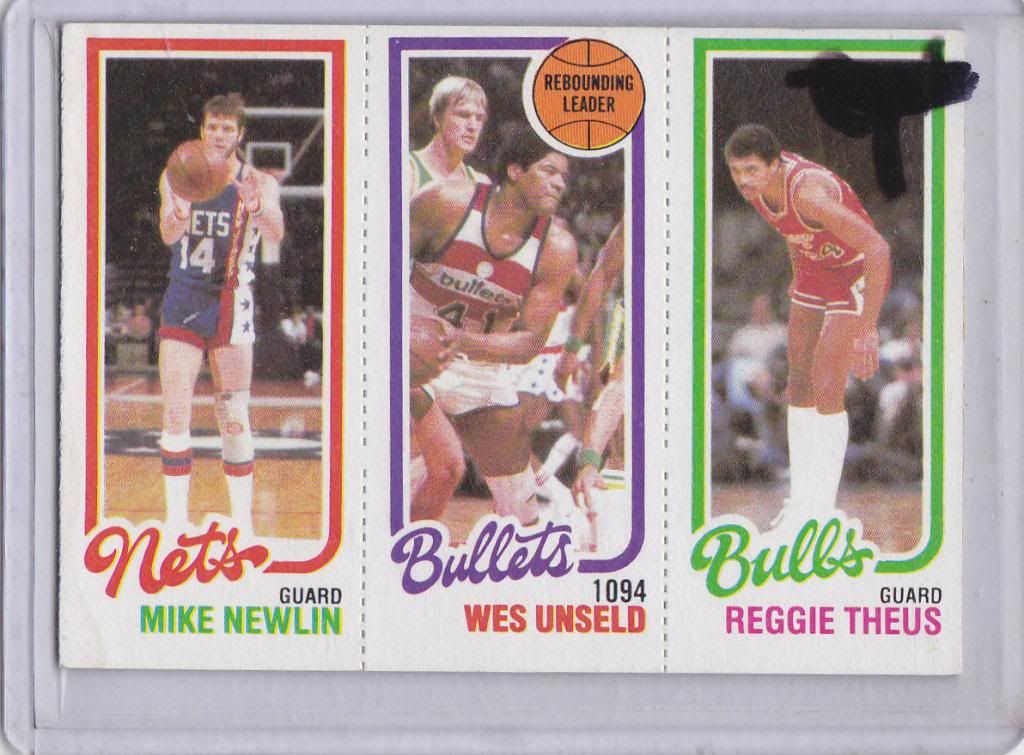 As you can see, there is Bob McAdoo, Adrian Dantley, Wes Unseld and Lloyd "World B." Free. All stars of the late 1970s, even though Photobucket refuses to rotate the cards for your viewing pleasure. However, there is one basketball player I would consider myself a fan of and enjoy collecting.
In the middle, highlighted with arrows on the toploader is Kareem Abdul-Jabbar, right around the time of Airplane. You can never go wrong with Airplane or Kareem, who might be the only basketball player I regret never seeing live. Also, Kareem was most certainly not a ninny.
And with this stack of cards added to my collection, I was able to leave the show and get on my way to the Meadowlands.