Last week, I was able to finally close on the card at the absolute top of my want list. I was rejected many times on eBay with reasonable offers on this card and in fact, I was even rejected once on this card, since someone else was interested in it first. However, last Friday night this card went up for sale and within ten minutes and one scan, it was on its way to my home, arriving in today's mail.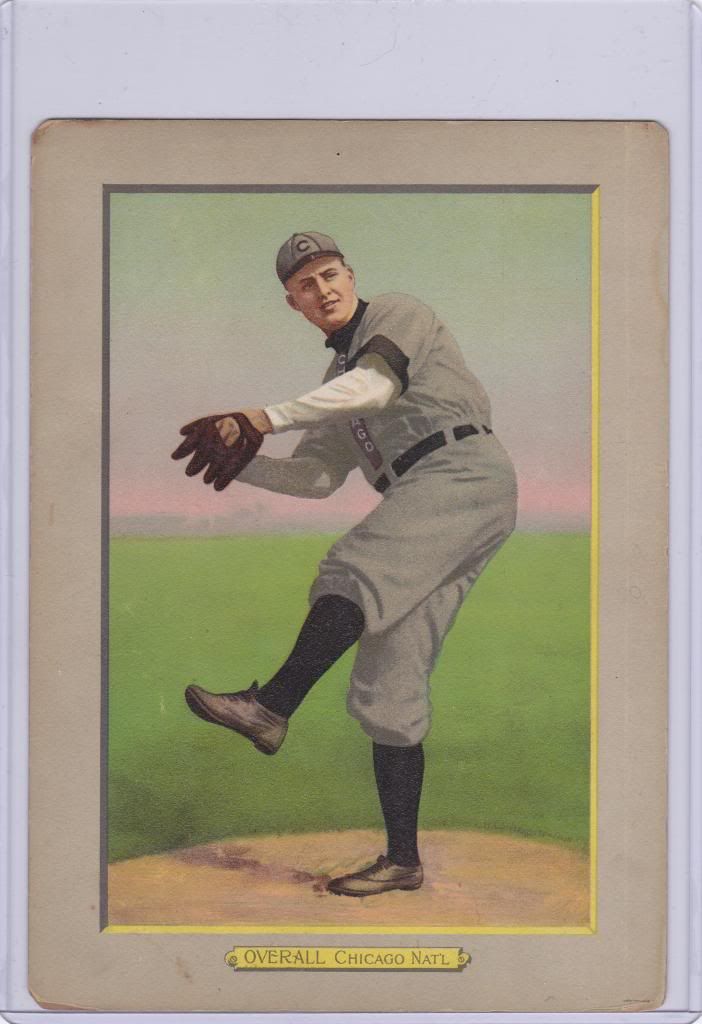 The card is a T3 Turkey Red Orval Overall. Turkey Red was a tobacco company around 100 years ago and offered the card as a premium. If you sent in enough coupons, you were able to select one of the cards on offer at the time. And by card, I mean, premium-sized cabinet card, which is 5 3/4" by 8". If you want to learn more about the set and see all of the cards, which include 100 baseball and 25 boxing cards, I highly recommend Craig's
Turkey Red site
, who conveniently enough sold me this card.
The design is one of the many Topps used in the past. In a number of years, Topps used this design on a standard sized baseball card. However, unless the pictures were painted by Dick Perez, the cards fail to resonate with me in the same way as the original T3s. Also, the smaller card doesn't show the same detail in the card's image, though they are admittedly easier to store than the oversized cabinet.
The card would sadly only grade a poor as there is a small pinhole near the top where the card would've been mounted on a wall 100 years ago. Fortunately, the hole is in the border and the coloring and image on the picture suffer from minimal defects. Perhaps it is all the times I was unable to close the deal on one of these cards, but I am quite pleased to call this T3 Orval Overall mine.